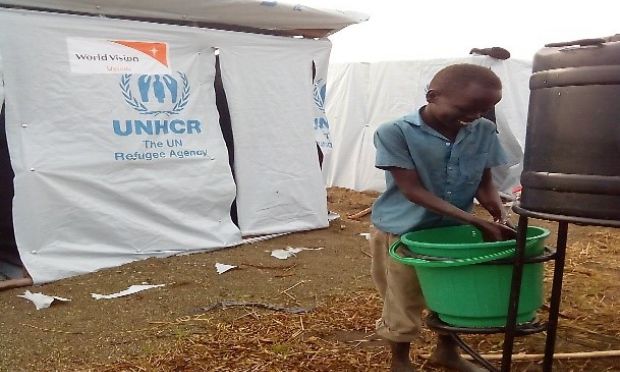 Bidibidi settlement camp in Yumbe District in Uganda is home to approximately 112,000 refugees from South Sudan who crossed into Uganda between the months of August and September, 2016, to escape the ongoing conflict in Southern Sudan.
Facts: Bidibidi Settlement (ReliefWeb)
Nine-year-old Franko is among the survivors of the conflict who made their way to Uganda.
Franko fled his home village in South Sudan in early September 2016, when unknown gunmen attacked and killed people at the back yard of their home. His mother pulled him from under the bed where he was hiding and the family was forced to flee by night, jumping over the bodies of the people who had been killed. After three days, he and his family of four were resettled to Bidibidi camp.
Unfortunately, when Franko and his family arrived, a cholera outbreak was being reported with nine suspected cases. Having seen people suffer from cholera back at home, Franko thought his family was doomed to die from cholera. Since the settlement had no latrines for the refugees, residence defecated in the open. No one washed their hands, and water access was minimal – only five litres per person, per day from water being brought in on a truck.
Several agencies, including World Vision Uganda, were mobilised to respond to the cholera outbreak. World Vision Uganda constructed temporary communal latrines, bathing shelters, communal handwashing facilities, and four boreholes to supplement the water trucking. Franko and his family were among those families that benefited from the World Vision temporary latrines, bathing shelter and a communal handwashing facility. Chlorine tablets for water disinfection were also distributed, and eight community hygiene promoters were recruited and trained by World Vision to promote hygiene and also educate the refugee population on the use of the different WASH items and facilities. Franko says he thanks God for saving his life twice.
Without water, sanitation and hygiene, people living in refugee settlements who are seeking safety and stability are exposed to further threats. World Vision works to respond quickly in emergencies to help people affected by emergencies have a safe and stable place to live as quickly as possible.