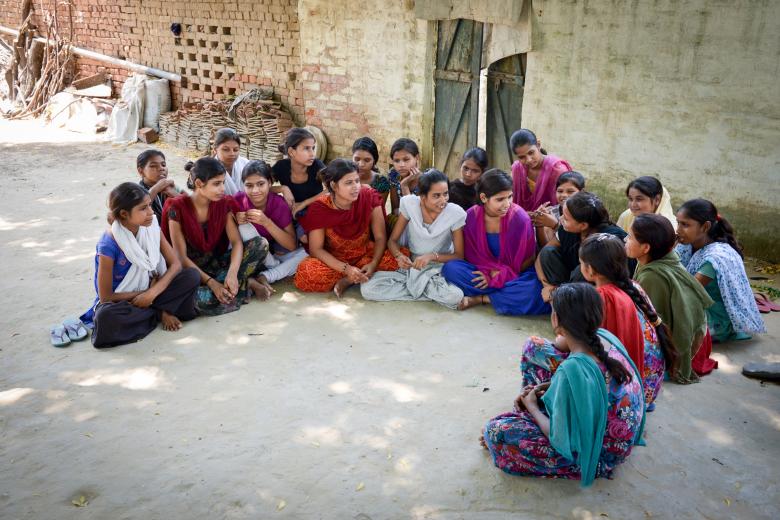 Taking a Stand for Girls in India and Kenya
Friday, May 26, 2017
There are many girls who don't know where to turn when they first start their menstrual cycle and need to take care of their feminine hygiene needs.  In countries like Kenya and India, many girls will drop out of school once they reach their adolescent years. WV India and  WV Kenya have decided to take a stand.
The Standing with the Girls Project funded by WV Korea, WV Germany, WV East Africa Region, and WV Kenya, was able to distribute sanitary kits to 2,500 of Kenya's most vulnerable girls. They also hosted a large International Menstrual Hygiene Day celebration in Kenya which was the first of its kind to be done anywhere within World Vision. Staff rallied prior to this event through a Fundraising Cycling Initiative by cycling for 260km to raise funds and also to create awareness leading up to the day. Due to their efforts, hundreds of girls were reached and awareness of menstrual hygiene has begun to spread throughout the various communities. Click here to see pictures. 

WV India has also decided to take a stand toward building up a healthy, mature and confident generation of adolescent girls who can take ownership of their menstrual health and hygiene. They set out to bring awareness on menstrual health and hygiene to as many schools as possible through reproductive health education.
The programme they created targets 9th-11th graders, their teachers and school administration, parents, and primary health care workers. Menstrual hygiene management is introduced in these programmes using engaging animation combined with a Reproductive Heath Kit for both girls and boys. The kit features puzzles, games, and magic, which help the children have fun while they are learning. Some of the main topics covered are as following:
Changes During Puberty- Physical and Emotional
What is Menstruation and Myths Related
Menstrual Health, Nutrition, Health & Hygiene
Fertilization
Safer Sex Practices
Importance of Education
Gender Sensitization
How to Handle Peer Pressure
Side Effects of Alcoholism and Drugs
Early Marriage and Consequences
Child Protection
The programme was able to disseminate educational resources to 209 schools, and train 407 teachers and 780 primary health care workers. This contributed to 34,492 adolescent girls being reached. There is now a very high demand for the programme  to be offered at other school locations throughout India.
WV India has also implemented a gender and advocacy oriented project called Making Schools Gender Friendly; a helpful guidebook for schools. The hope is to initially turn 50 schools in to "model schools" or schools that have become gender friendly, and to eventually resource World Vision as a whole as well as other concerned development organisations in developing WASH inclusive and gender friendly schools.   
Learn more about World Vision's work in menstrual hygiene.