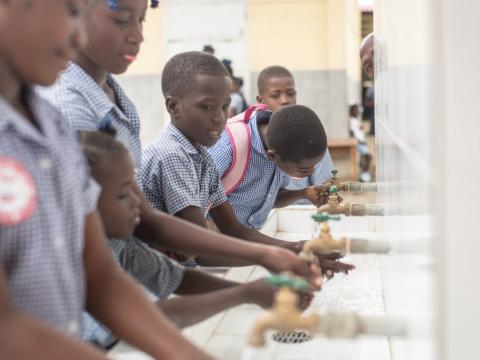 WASH away from home
In the WASH sector's quest to ensure the availability and sustainable management of water and sanitation for all (Sustainable Development Goal #6), access to water, sanitation and hygiene facilities at home is simply not enough to achieve behaviour change and sustainable impact. When World Vision works with communities, they consider water uses beyond basic household consumption, working with health care facilities and schools to ensure these critical community structures have easy access to safe, clean water, sanitation facilities and hygiene improvement. 
It is obvious that the availability of WASH is needed in a variety settings beyond the home which include: healthcare facilties, schools, workplaces, refugee camps, prisons, orphanages, and other temporary use settings (e.g. transportation hubs/vehicles, places of worship, resturants, and markets). Learn more about WASH away from the home by reading this information guide produced by IRC. 

World Vision has pulled together a series of webinars with partners to help facilitate the realisation of this agenda.

WASH Away from the Home Webinars
WASH COP Webinar: WASH in the Workplace- TBD
 WASH CoP Webinar: WASH in Orphanages
- 28 June 2017 
WASH CoP Webinar: WASH in Refugee Camps
: 9 February 2017
WASH CoP Webinar: WASH Away from the Home- 23 November 2017
Leadership 
Our WASH Away from the Home work is lead by Regional WASH Advisor for Middle East/Eastern Europe Regional Office Marielle Snel. Learn more about Marielle and our global leadership on our 
WASH experts page
.