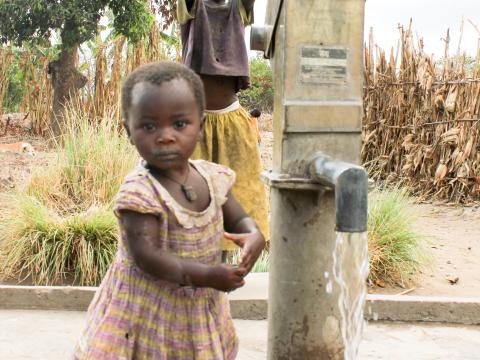 WASH: How we work
our approach
Our work succeeds because it is community-based and community owned. We live and work in communities for at least 15 years. Our dedicated and tenacious staff spend time talking with and listening to communities to understand their problems and to work together to solve them. 
clean water
World Vision drills deep and shallow borehole wells; refurbishes broken water systems; constructs hand-dug wells; and installs other systems, such as rainwater harvesting systems, capped natural spring systems, and mechanised water systems. We train WASH committees to maintain and repair water points. Comprised of community volunteers, these committees take responsibility for operating and maintaining facilities, using a fee-collection system to pay for repairs when needed.
sanitation and hygiene 
Our sanitation and hygiene interventions focus on promoting lasting behavior change. Instead of simply building latrines, World Vision uses a participatory, community-driven approach that motivates households to build, maintain, and regularly use their own latrines. Hygiene education encourages community members to modify their hygiene habits by washing their hands and dishes with soap (or ash) and practicing safe water handling. 

World Vision's WASH programmes play a vital part in reaching the United Nation's Millennium Development Goal to reduce child mortality. For example, an independent evaluation by Hydroconseil in 2011 from our West Africa WASH programs in Ghana, Mali, and Niger showed significant improvements in access to water and sanitation for families in target communities, as well as a decrease in cases of diarrhoea by up to 17 per cent (depending on the country) and near-elimination of Guinea worm.