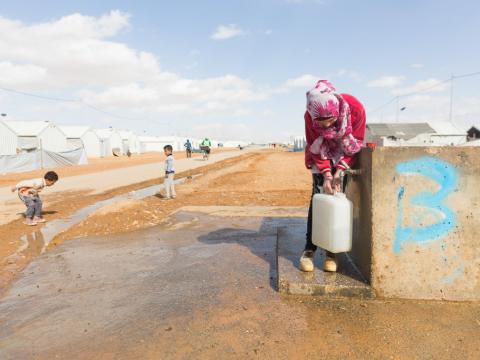 WASH in refugee camps
Displaced populations are growing internationally. Refugees and camps for internally displaced persons (IDPs) are emergency situations where large groups of exhausted people, likely with very few personal items, are relocated to a previously uninhabited area. Residents of refugee and IDP camps find themselves fleeing from negative circumstances in their homelands only to encounter sometimes equally difficult situations in the camps.
Densely populated stretches of land are developed quickly to provide immediate infrastructure for services to ensure the health and safety of residents. Even in these challenging settings, refugees and IDPs have human rights to drinking water and sanitation. The fact is that these camps house large populations living together in close temporary quarters for an indeterminate period of time make them susceptible to the rapid spread of pathogens and other environmental health-related crises. 
Listen to WASH CoP's Webinar on WASH in Refugee Settings.
Additional Websites:
http://WASH.unhcr.org/
www.cmtoolkit.org
Case Studies: Toolkits & Handbooks: