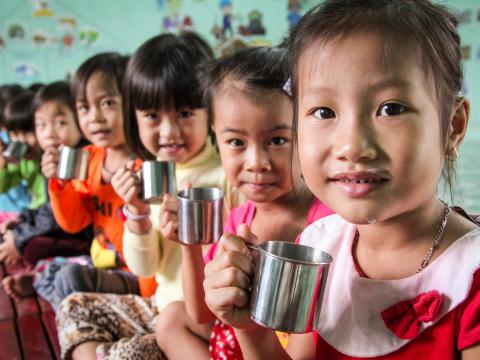 Water supply
World Vision believes every child deserves clean water. Our goal is to support governments and communities where we work to achieve universal coverage in access to water facilities and services. Over the past 5 years, World Vision has become the largest non-governmental provider of clean water in the developing world, reaching one new person with clean water every 10 seconds. Eight in ten wells installed by World Vision are still operational long after they are built—up to 20 years later— which is significantly higher than the industry standard. Clean water access goes beyond basic wells with handpumps located within a 30-minute walk from home. While constructing boreholes with handpumps are sometimes the first step in establishing an accessible clean water supply, World Vision supports communities to develop community water supply systems through mechanisation of water sources for multiple-use and sometimes even serving multiple villages. By piping water, World Vision also works to bring water as close to households as possible. Other integrated water resource management systems used include rainwater harvesting, protected spring catchments, and harnessing surface water from perennial rivers – in many of these cases using solar power. Whenever possible, World Vision works to rehabilitate boreholes that were previously constructed by other stakeholders.
Because we emphasise water safety, World Vision ensures the quality of water through comprehensive water quality tests on each water source, including physico-chemical and bacteriological ones. Geo-contaminants are removed from water using easy-to-use and locally adapted technologies. Household water treatment is promoted in every community we work.
But water supply is not only needed in the home. We work to ensure that schools and health care facilities in the community have access to water and that safe WASH practices are integrated to support the first 1000 days of a child's life through BabyWASH. Through this work we are investing in communities with their future in mind. 
Leadership
Our water supply work is lead by WASH Operations Technical Director Samuel Diarra. Learn more about Samuel and our global leadership on our WASH experts page.