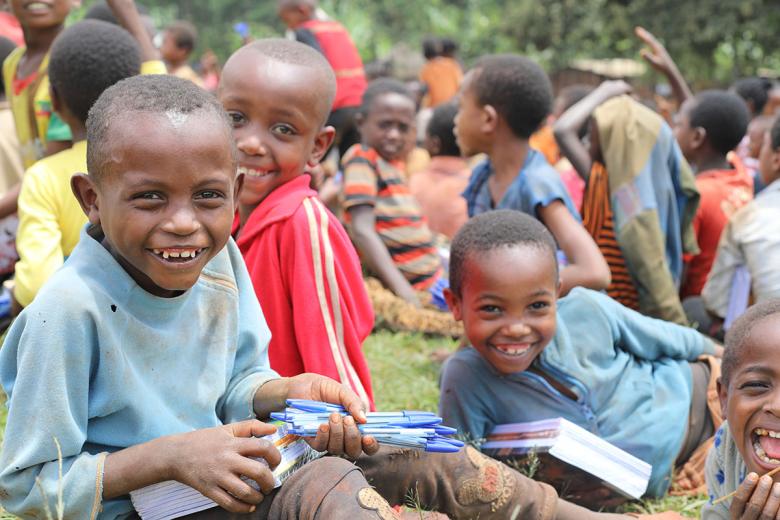 After months of conflict, children hoping to get back to school in southern Ethiopia
Thursday, November 1, 2018
Inter-communal violence earlier this year displaced nearly a million people in Gedeo and West Guji zones in southern Ethiopia. 
Learning for hundreds of thousands of children was completely interrupted. Reports by the national education cluster indicate that 46 schools suffered extensive damage to school buildings and learning materials, as well as sanitation facilities. 
World Vision estimates that 40,000 pre-primary and primary school children in West Guji alone missed at least five months of schooling due to the conflict.
"Visiting displaced people living in crowded buildings, my heart was broken seeing children with their books, wanting to learn," said Edward Brown, the national director for World Vision Ethiopia. "Children and their parents value education, but have been forced into survival mode as they've lost almost everything." 
As displaced families return home, they face the challenge of rebuilding their lives from scratch. 
Learning is also resuming albeit slowly. In some schools, children are learning in makeshift shelters with muddy floors. 
Recently, there was some relief for parents as 463 children from three primary schools in Kochere location (Gedeo zone), received books, pens and other basic personal items such as clothing and mattresses (through World Vision's child sponsorship project). 
Eight-year-old Tarikua (pictured below) is a grade two student, she dreams of becoming a teacher. "Our books were destroyed in the conflict and I only managed to preserve one," Tarikua says. I am very happy for the books and pens we received today and that they will last me the entire year and will study without much worry," she adds. 
50-year-old Desalech, a mother of eight children admits to the fact that the support will go along way in helping lessen the burden. 
"Most of the families that have returned back home are just beginning to settle down," she says. "Most of us don't have money to buy things such as stationery, because of other more pressing needs. It's a huge relief that two of my children received the required learning materials," Desalech says. 
Abiyot Kebede a principal in one of the schools destroyed in the aftermath of the violence hopes that efforts will be intensified to ensure learning in schools resumes fully. 
"As you can see, the school is not a school anymore. It is difficult to call it a school as most of the infrastructure was destroyed in the conflict. There's no staff room for teachers, the library is gone and the latrines as well," Mr. Kebede says. 
World Vision continues to actively seek for funding to implement practical education programmes targeting 195,847 school-going children (4-14 years) who have returned to their homes particularly in West Guji. These will include catch up classes and accelerated programmes that will enhance successful transition of the children into the next school year.
The funding will go towards reconstructing and renovating classrooms and providing affected schools with furniture. It will also cover training of teachers and education officials as well providing psychosocial support to children. 
"Rebuilding efforts should ensure that normalcy resumes in schools and children do not fall further behind their schooling given that much time has already been lost," Brown remarks.  
Story by Lucy Murunga, communications manager for World Vision East Africa Emergencies with contributions from Fitalew Bahiru, communications specialist, World Vision Ethiopia. 
More about the work of World Vision in Ethiopia here.