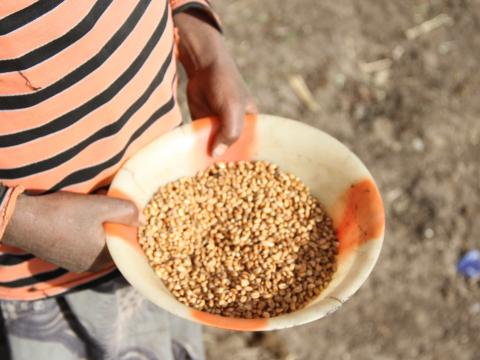 Breakfast, but no lunch or dinner
Tuesday, February 2, 2016
In Eastern Ethiopia, the effects of El Nino are undeniable. Driving through the countryside, one is confronted by the sight of failed crops everywhere. So much so that it would be easy to believe that the harvest has already happened. On the contrary, crops were doomed even before they were even planted.
"The situation is critical. Malnutrition is high and children who have already been treated quickly relapse due to the lack of adequate and nutritious food," says Mohamed Hussein, one of the leaders of the community of Jeju.
"Half of the villages here are severely affected. Our crops have failed and we have no water. A quarter of the population needs immediate support and others will reach a critical stage in the coming two months. Many people are experiencing severe water shortages. Our children are dropping out of school and the younger ones are severely malnourished. We need animal fodder," he says.
Others describe the same situation. "Our district has been affected for the last two years … both Belg and Kiremt (seasonal) rains failed, started late or were insufficient," says Hakomo Abdi, a local official. "Our main challenges are food shortages … water shortages and shortages of animal fodder," he says, reinforcing the words of the community leader.
Although World Vision has provided people in the area with livelihood options the recurrent failing rains has trumped these. People received seeds to plant but they did not bear fruit. More food, seeds and water will be needed over the coming most to stave off a looming catastrophe.
Desu Awel, is a seven-year-old girl, in grade one at Shambado Primary School. She is a shy but happy girl. "We normally eat once or twice a day these days. My favourite food is injera (Ethiopian flat bread made of teff). We eat eggs or meat once or twice a year during holidays," she says.
Desu's family has been particularly affected by El Nino. With a low income, the area in which they live has been hit hard by the drought. "I miss school sometimes to fetch water from distant places, I watch over my younger siblings or stay in the house. My favourite subject is English and I want to be a teacher when I grow up."
Her older brother, Gobe Awel, is nine years old. Even in grade three, he has high hopes for the future. "I like playing football. In school, my favourite subject is English. I want to be a doctor when I grow up. My favourite food is injera and roasted grain (barley)."
Today, they are having Gobe's favourite meal for breakfast - roasted barley. But neither child will be able to fulfil their dreams on only one meal a day.
Although the Ethiopian government has made efforts to close the food gap that has been widening during the drought, it hasn't been enough. The government has been working with aid agencies and other partners to attempt to meet the huge needs in the communities.
"We have provided maize for those in critical condition but this hasn't been sufficient. We have carried out food distributions of eight kg of enriched flour, one litre of oil and one kg of haricot beans per family for a month. This is not enough," says Abdi.
Make Birte is a 28 year old of five who has just received the food ration for the next month. "We are grateful for the food we have received from the government.  My family is large, so it might not be enough, but it is something," she says.
World Vision is supplementing the efforts of the government by covering the cost of transporting enriched food for small children and medical supplies to the area. "A few months ago, we were trying to help the residents recover from failed rains by providing them with seeds. We have also trained for health workers how to treat malnourished children ," says Shambu Balcha, a Manager working for World Vision in Ethiopia.
But only time will tell if this is enough to stave off the suffering that could be caused by El Nino over the coming months.