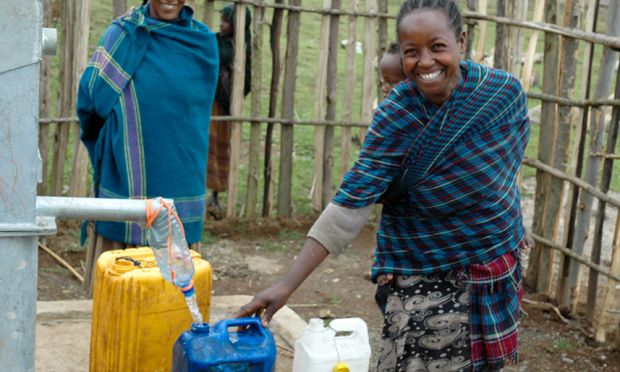 In Bochesa village, southern Ethiopia, people used to drink stagnant river water that was dirty. Humans and animals were using the same water source. The villagers say that they used to suffer from waterborne diseases. World Vision Hulla Area Development Programme (ADP) drilled a borehole in the village and made safe drinking water accessible to the villagers. The villagers witnessed that the clean drinking water has beaten waterborne diseases off the village.
"For many years, people in our village, including myself, have been complaining about abdominal pain and discomfort," says Arfaso Negeso, the 60-year-old mother with 10 children. Arfaso lives in Bochesa village in Hulla district (southern Ethiopia where World Vision Hulla ADP operates).
Arfaso goes on to say, "Some people, especially children, were suffering from serious health problems like fatigue, weight loss, fever, watery diarrhoea, loss of appetite, nausea, vomiting, muscle aches and intestinal disturbances. These problems were happening in our village because we were drinking stagnant river water that was dirty. You know humans and animals were using the same source of water. It is possible for the drinking water to be contaminated with animal manure and urine."
The 45-year-old Lucho Guga also lives in Bochesa village. She explains how health problems caused by a lack of safe drinking water were resulting in economic losses. "Many families in the village were facing financial losses due to costs of medical treatment and medication, costs for transport, and special food for the sick. When the worst came, the loss of family member may result in a very complicated problem. Many families were forced to sell their assets and even land to pay for treatment."
"Fortunately," Lucho shares, "Over the past two months, the situation has changed. World Vision has constructed this borehole in our village and now clean drinking water is in our access. We are not drinking contaminated water anymore. Even we are not washing with the dirty water. Presently, no one in the village is complaining about abdominal pains and diarrhoea. With this water well, the villagers, especially children, are rescued from waterborne diseases."
Alemitu is a 25-year-old mother of two children. She says, "2011 is special year for us. We have never dreamt to have safe drinking water here. World Vision has drilled this well and it happened all at once. Since this borehole began service, neither my children nor I have ever got any sickness or abdominal discomfort."
The borehole in Bochesa village is one of the seven shallow wells drilled by Hulla ADP recently in Hulla district. About 500 people benefit from one well.