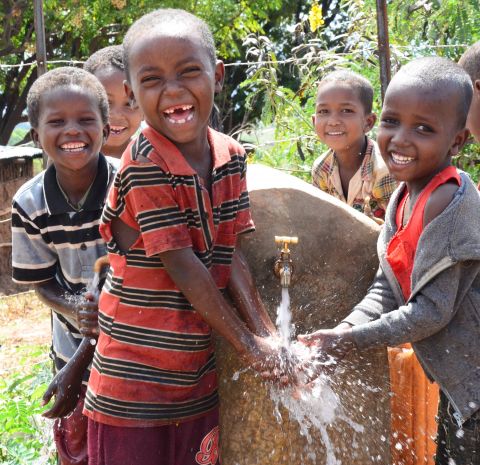 World Vision is committed to helping children enjoy life in all its fullness by working with families, communities, and partners and access to safe water, improved sanitation and hygiene practices form the first pillars towards health and wellbeing of children, their families, and the communities they live in. As such, World Vision believes that every child deserves safe water. Our community-based approach gives us deep roots in the community, while our more than 40-year history in Ethiopia gives us the longevity and experience to take quality and sustainable interventions to scale.
What is happening?
Nearly 39 million Ethiopians, most of them in the rural areas, do not have access to safe water supply.
Close to 48 million Ethiopians lack access to basic sanitation
Diarrhea is the leading cause of under -5 mortality in Ethiopia, causing 23% of all under- 5 deaths (73,341 children per year).
Poor sanitation, lack of access to clean water supply and inadequate personal hygiene are responsible for 90% of diarrheal disease occurrence.
An estimated 64,540 children could be saved every year by improving Water, Sanitation, and Hygiene in the country.     
Goal
The goal of the WASH Program at World Vision Ethiopia is reducing the prevalence of diarrheal diseases among children caused by poor access to WASH services and reducing the economic and social burden brought about by the lack of access to clean water, sanitation and hygiene on children and families in our project intervention areas. 

Beneficiaries
The beneficiaries of the WASH interventions are children and families. As per the five-year business plan of the WASH program (2017-2020), the program aims to reach 1,365,121people with access to clean water, in the, 1, 499, 043 people with access to sanitation facilities and the same number of people (1,499,043 people) with hygiene behavior changing interventions. 
Project Period
The current business plan for the WASH Program encompassing a number of projects runs from 2017 -2020, with individual projects taking their own project period within the business plan frame.
What we do
World Vision Ethiopia implements its WASH programs in three major areas; Rural WASH, Urban WASH, and Emergency WASH Response. Through these initiatives, World Vision constructs new water schemes and rehabilitates nonfunctioning water points in communities, schools, and healthcare facilities. Community-led total sanitation campaigns to promote open defecation free communities, construction and rehabilitation of sanitation facilities, hand washing facilities as well as conducting community and school hygiene campaigns aimed at creating healthy hygiene behavior. The WASH projects also strengthen the capacity of communities to manage facilities by establishing and training WASH Committees.
Impact
In the past six years (2011-2016), WVE has provided a little over two million people with safe drinking water, more than 1.9 million people with dignified sanitation and 1.8 million people are practicing healthy hygiene behavior. In the first six months of 2017, WVE has reached 236889 people with clean water, 191,750 people with access to improved sanitation and 107, 360 people are practicing healthy hygiene behavior. These results are helping children survive episodes of diarrhea and creating the means for a productive life. Girls and Women also travel less to fetch water and now have more time for school and productive economic activities. Community groups are better equipped to manage WASH facilities to ensure sustainability of schemes.
Way Forward
Completion of remaining project activities
Ensuring sustainability of project results
Facilitate smooth project closeout