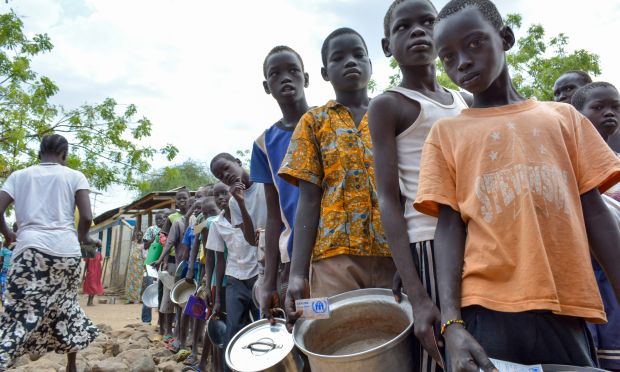 Breaking bottlenecks
In an age where humanitarian crises have displaced 65 million, effective and efficient action is paramount [1]. The Last Mile Mobile Solutions (LMMS) system not only does just that, it also has the potential to transform humanitarian aid service delivery [2].
LMMS is a technology solution pioneered by World Vision that combines software applications with custom hardware to digitise, and simplify, the processes of remote data collection, beneficiary management, commodity distribution and reporting in the 'last mile' — that is the final point of transaction between humanitarian organisations and beneficiaries.
At World Vision, LMMS is currently used across 29 countries to register and manage more than 4 million beneficiaries. In Kenya alone, as of July, 2016 World Vision's 13 food assistance projects are reaching approximately 857,820 beneficiaries, including 91,000 in Kakuma and 113,082 in Dadaab refugee camps.
Historically, LMMS has been used in protracted crises and for internally displaced persons from the Kurdistan Region of Iraq [3] to the Central African Republic [4]. While the technology and systems are also able to support refugees, this has yet to happen in practice due to strict legal, political and protection issues.
That is until a recent breakthrough.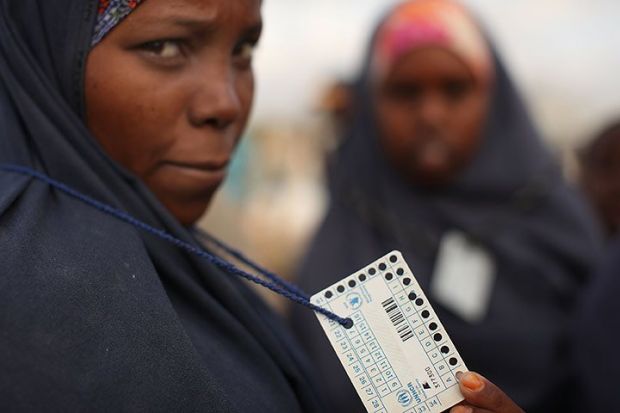 In refugee contexts, UNHCR registers beneficiaries by providing a card linked to an electronic record of demographic information. Apart from work in the Central African Republic [5], this card and digital record have had limited interoperability across other digital systems of implementing humanitarian actors, like World Vision's LMMS. This resulted in an extensive, redundant and outdated process slowing provision of life-saving services to the most vulnerable.
Clearly, an upgrade was needed.
Elevating innovation
For LMMS to become capable of reading UNHCR cards and improve food assistance in refugee camp settings, a series of conversations, demonstrations and modifications were made. Specifically, over the course of three years, World Vision worked to:
Prove its commitment to the highest standards in governance, management, partnership and accountability in order to quash concerns about child protection and data security [6].
Showcase the functionality of the LMMS system, as well as its ability to enhance the effectiveness and efficiency of beneficiary management and reporting in complex humanitarian contexts.

World Vision Haiti found a 50 per cent decrease in registration, distribution and reporting times [7] and a 40 per cent decrease in project budgets [8].
Norwegian Refugee Council in Liberia [9] found a 40 per cent decrease in distribution staffing, office and travel costs
Oxfam in the Philippines [10] found a 47 per cent decrease in registration time

Provide testimonials from UN Agencies, NGOs and communities who used LMMS. For example:

"This program blew me away. It is amazing and will change the aid sector." - Emergency Food Advisor from Oxfam GB noted,
"It is my first time to leave a food distribution before lunch time, in the past we have always left at sunset" [11] - food aid recipient from Zimbabwe said

Code new software to enable the bulk import of the refugee manifest via .CSV files from UNHCR's databases into the LMMS system.
Test and verify quality assurance of the interoperability between systems.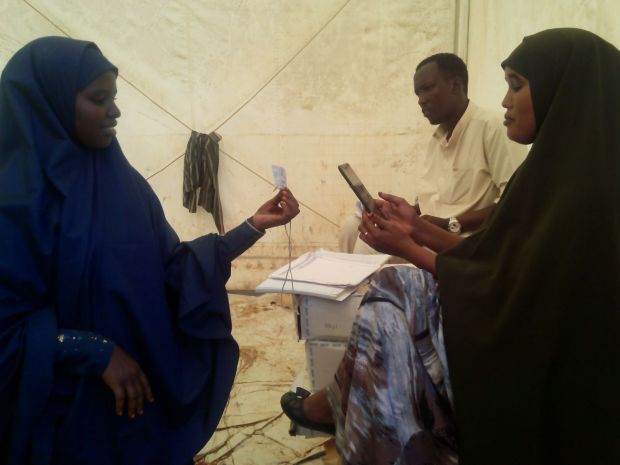 Scaling solutions
As of July, 2016 the link between UNHCR data and World Vision's LMMS system has been scaled up to reach 50 per cent of the refugees World Vision serves in Dadaab and 60 per cent in Kakuma.
The efficiency, effectiveness and accountability that LMMS has made manifest on dozens of projects around the globe has finally been able to manifest in camp settings.
This case study is another example of LMMS' efficacy and interoperability in a growing evidence base.
"Why has this technology taken too long to be rolled out in the camps? This is the real solution!"

– Dickens Thunde, National Director, World Vision Kenya
Read the full case study
Read more about LMMS
Watch an intro video on LMMS