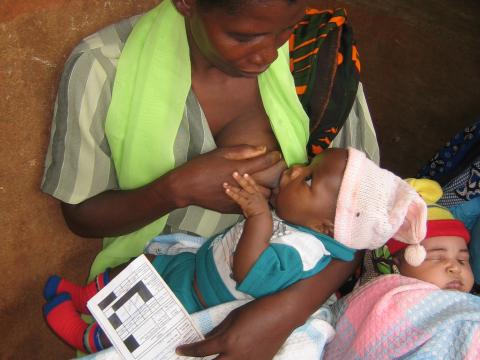 Key Breastfeeding Facts
Friday, July 29, 2016
KEY FACTS ABOUT BREASTFEEDING
Undernutrition causes almost one half of all deaths of children under 5

—

more than three million children out of 6.9 million child deaths in 2011.

If all babies were fed only on breastmilk for the first six months of life, an estimated 800,000 children would be saved every year. 

(This figure is derived from the 2013 Lancet Series on Maternal and Child Nutrition finding that

sub-optimal breastfeeding is responsible for 11.9% of all under five child deaths.)

An exclusively breastfed baby is 14 times less likely to die in the first six months than a non-breastfed child. Non-breastfed babies have a 10 times greater risk of death from

diarrhoea, and 15 times greater risk of death from pneumonia compared to infants who are exclusively breastfed.

 

(Statistics are for children in developing countries).

Breast milk is the natural first food for babies; it provides all the energy and nutrients that infants need in the first months of life, it continues to provide up to half or more of a child's nutritional needs during the second half of the first year, and up to one-third during the second year of life.  Breast milk cannot be duplicated by any artificial means

—

nothing comes close to the original.

Although global rates of exclusive breastfeeding have increased from 14% in 1985, they have remained stagnant since 1990, with only 37% of children less than six months exclusively breastfed in 2015.

Rapid and substantial increases in exclusive breastfeeding rates, often exceeding the proposed global target, have been achieved by individual countries in all regions, such as Cambodia (from 12% to 60% between 2000 and 2005), Mali (from 8% to 38% between 1996 and 2006), and Peru (from 33% to 64% between 1992 and 2007).

Breastfeeding contributes to the health and well-being of mothers.  Breastfeeding mothers have quicker recovery after childbirth and have natural birth spacing, unlike non-breastfeeding mothers who have slower recovery from childbirth and an early return of menses.  Women who do not breastfeed increase their risk of ovarian cancer by 26% and premenopausal breast

cancer by 39%.

Supporting breastfeeding pays off for employers as well as families. 

Breastfed infants are healthier, with fewer episodes of illnesses and infections than their formula-fed counterparts. 

This reduces the number of days parents must take off work due to infant illness, 

and lowers costs to employee health benefits programmes for prescription medications and other health care costs. Workplace support for breastfeeding also improves employee morale and retention of competent workers.
MORE BREASTFEEDING INFORMATION