Developing partnerships between World Vision and public health students around the globe
Initiative
World Vision is partnering with a consortium of universities around the globe in an exciting Global Health Fellows Programme (GHFP). This venture, which includes universities in developing countries, recruits Master-level Fellows to support our global Maternal and Child Health and Nutrition (MCHN) work. For twelve weeks, Health Fellows will be matched according to their skill sets to World Vision offices implementing our health strategies.
Where
World Vision's community-based health programming is underway in over 60 countries worldwide! We are looking for Global Health Fellows to collaborate in East and Southern Africa, Latin America and the Caribbean, and Asia Pacific regions.
What
During FY15, the GHFP expanded in scope in order to achieve its goal of accelerating World Vision's(WV) contribution to the global reduction of maternal and child morbidity and mortality. The number of fellowships grew considerably. As a result, this deepened the GHFP's impact, reinforcing the capabilities of its foundational framework to enable practical field-level support for WV's technical teams and professional development for future leaders in global health. Additionally, it enables mutual exposure and organizational networking for all stakeholders involved
Participating Universities To Date
Our University Partners list is growing! We are very pleased to have student Fellows from more than 14 Schools of Public and Global Health.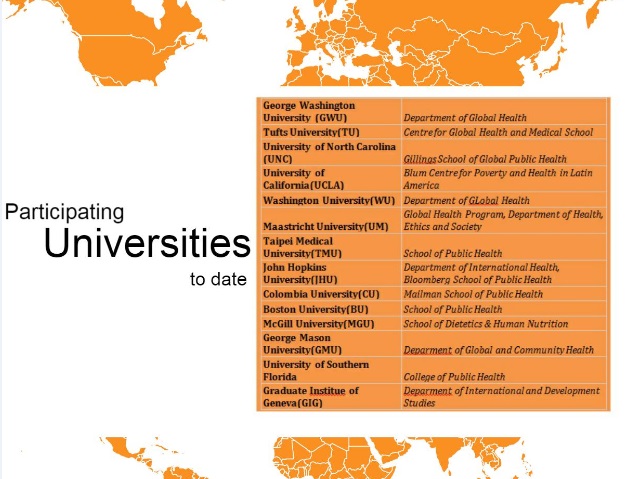 Insight

GHF Dzia Andam, WV Ghana, Nutrition Links Project, demonstrates how to make porrige with more nutritional ingredients.

First fieldwork with WVG team, Amanecer ADP

How
Is your University a World Vision Partner? We are building our network of collaborating universities for this programme and would like to hear from you. If you are not sure if you are a participating University, please use the contact information below to find out how your programme can participate.
Contact
To register or for more information please contact:
Erin Jones
Programme Coordinator, World Vision Global Health and WASH
erin_jones@wvi.org