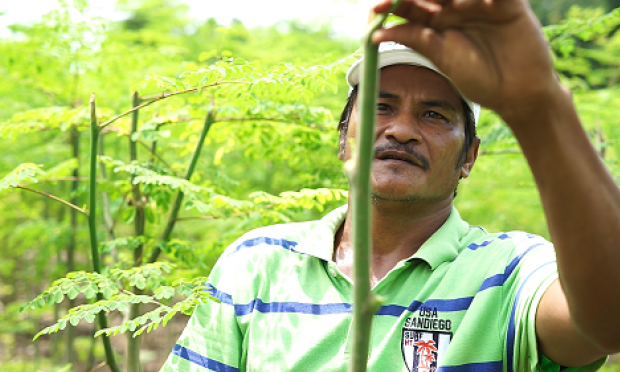 Departing with 10 other people from Kupang district to take part in the Training of Trainer at the Moringa Training and Learning Center in Blora in April 2018 was a valuable experience Mr. Matheos Pello ever got throughout his life. This activity led him, or commonly called Om Us, to seriously cultivate moringa plants.
According to him "During studying in Blora, I feel like to go home right away to open a new land and plant it with moringa." The desire is based on several things including his land area is very wide, the condition of the land owned is very suitable for planting moringa, labor that will be involved in all activities is very possible. Indeed, one of the limiting factors is the lack of water availability in almost all locations to be planted with moringa. However, that did not dampen his intention to cultivate moringa.
In terms of farming, his hard work has proven the results. Mr. Us has several times with his farmer groups which he also founded won championships and awards at both the district and provincial levels. He was the first winner for the highest provincial level corn production competition with his farmer group Tungga Dea, at Oeteta Village in Kupang District.
At present, there are three locations where he has prepared the land for planting moringa. The first location with an area of 1 ha has been planted with moringa for leaf clusters, the plant height in this location is now about 15 cm. The second location covering 2 hectares has been planted with moringa since the dry season (August).
He bought water to water the moringa plants every 2 days. Water was collected in a tarpaulin to hold water. The plant height in this location is about 40 cm. The third location with an area of 0.5 ha, ready to be planted, is planned to be planted at the beginning of January 2019.
Although he has a physical limitation, his ability and enthusiasm for the work are very extraordinary. "I want all of my 5 children to go to college and everything can be funded through the harvests of all the Moringa gardens that I have worked on together," said Om Us.
The grace of the hard work he did with his family to plant moringa, he got support from the Provincial Agriculture Office. He got 1 unit of moringa leaves dryer; 40 rolls of barbed wire for the fence; 3 water tanks with a volume of 1200 liters each.
Since the beginning, Mr. Us has been determined about the moringa.
"I have to plant it first. Other things, like support, will follow." He hopes that other farmer in Oeteta Village or other neighboring villages will imitate him. "In the future, I want to get the story that many children can complete their college through the results of their moringa garden."
Written by: Hestin Klass, Team Leader Moringa Project East Nusa Tenggara Wahana Visi Indonesia