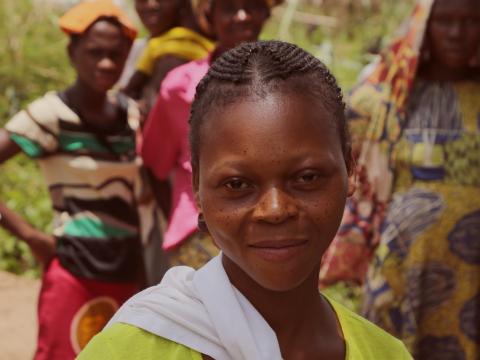 A gleam of hope as aid gets to Kasai
Tuesday, March 27, 2018
The people of Tshimbu, in Kasai Central in the Democratic Republic of Congo, can breathe a sigh of relief. World Vision and the World Food Programme (WFP) are providing food assistance to ease the widespread hunger and malnutrition that has been left behind by last year's ethnic conflicts. 
When the war broke out in August 2016, the inhabitants of Tshimbu, mostly farmers, fled their homes and abandoned their farms. Nearly 1.6 million people were displaced in the crisis, and about 3.2 million became food insecure. 
Mphutu Makebu waits anxiously for her turn to receive food. Before the war, the 22-year-old mother had a booming business of selling vegetables and fruits from her small farm. And with her earnings, she was able to feed her children and cover all of her household needs. 
"I lost everything I had. My house and my farm. I am forced to start all over again," Mphutu explains. 
"I feel relieved to receive this food. My children will have something to eat. I wish this could go on until we start harvesting our own food." 
Today, World Vision is providing food assistance to over 4,100 community members.  The maize flour, beans, cooking oil and salt is expected to last them 15 days (or cover half of all their dietary needs for one month). Each family will receive three months of food distributions. 
A recent World Food Programme report indicates that over 300,000 children in Kasai are at risk of dying from acute malnutrition. Families have already missed two consecutive farming seasons and this is likely to worsen the current state of food insecurity. 
On 13th March 2018, World Vision Southern Africa Senior Director of Operations, Jean Claude Mukadi, visited Tshimbu. 
He explains, "Most children in this area are suffering from malnutrition. They are suffering from lack of means to go to school. Poverty levels are significant. We really need to advocate for children and for the population of this country." 
World Vision and WFP have been providing food assistance in Kasai Central since August 2017. As of the beginning of March 2018, the organisations have managed to reach over 360,000 people. 
Humanitarian organisations are working tirelessly to deliver aid to families affected by the crisis in the Kasais. However, shortage of funding is one key challenge that might propel the already worsening situation into long-term disaster if not given urgent attention.