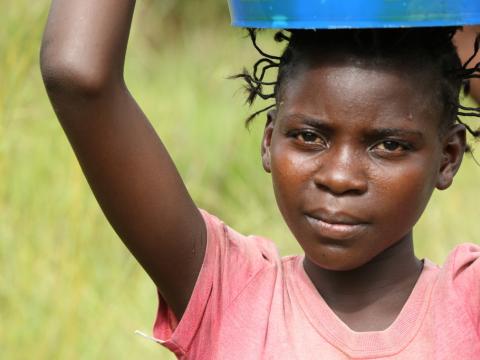 I want clean water in my village | voices from children in Kasai Central
Saturday, April 7, 2018
"My name is Ngalula. I am 12 years old. I am the second born in a family of four children. I stopped going to school last year because of war. I was in grade 5. I would like to be a tailor when I grow up. I would like to make dresses and sell them in town. 
My parents and my siblings fled the war. They went to Angola. I was not with them when the war started. I had gone to visit my aunt. I now stay with my aunt. I am hoping to see my parent and siblings again. 
Every day, I help my aunt to wash dishes. I also help her to fetch drinking water from the stream. The stream is very far from where I stay. I have to walk a long distance to get to the stream. I usually get tired. 
It is dangerous to go to the stream alone. It is in the bush. I fear being bitten by snakes. I fear being raped. I always go to the stream with friends. 
People wash their clothes and dishes at the stream. The water we use looks dirty. We don't have other places to go to fetch water in my village apart from this stream. 
Dirty water makes me sick. I often suffer from diarrhea. Whenever I am sick, I fail to play with my friends. I always sleep at home. 
I want to see my village having clean water. The water sources should be near to my home and not very far."
Since August 2016, over 2.5 million inhabitants of Grand Kasai, Tanganyika andSouth Kivu have been forced from their homes escaping violence. The Humanitarian Response Plan for the Democratic Republic of Congo (DRC) for 2018 predicts that 13.1 million people will need humanitarian assistance and protection this year. 
More than 60% of these are children: 7.9 million girls and boys under the age of 18 are in dire need of support to survive and to thrive. Nearly 4.6 million people are facing emergency levels of food insecurity, with 2 million children at risk of severe acute malnutrition. More than 400 schools around Kasai were sacked, burned down or destroyed during the war and 440,000 children were unable to complete their 2016-2017 school year (UNICEF Report). 
World Vision declared a Category III National Emergency in the Kasais in July 2017, and scaled the response up to a Global Category III in November 2017. 
World Vision's goal is to reach 2 million beneficiaries in the Grand Kasais Region by December 2018. Interventions focus on Education, Food Security, Nutrition, Child Protection and WASH, with a funding goal of 40 million US$.