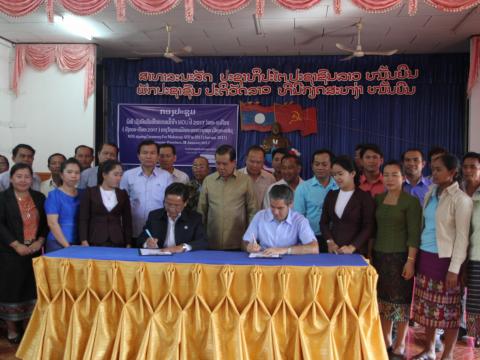 World Vision extends support for Khammouan Province
Thursday, January 26, 2017
World Vision International Lao PDR will begin phase two of a development project in Mahaxay and Xebangfay district in Khammouan Province, with activities to run from January to September 2017.
Director of World Vision International Lao PDR, Mr. Christopher Herrink, and a representative of Khammouan province, Mr Khaisy Dalasy, signed a Memorandum of Understanding on the project.
The child-focused project will concentrate on health, improved sanitation, and improving access to clean water. With regard to education, activities will aim to improve teaching in schools. An agricultural component will offer instruction in growing home garden and sustainable livestock breeding methods. This project will support healthy lifestyles and improve nutritional deficiencies in children.
 World Vision International Lao PDR began working in Khammouan Province in 2011, and has implemented various projects including food scarcity relief, integrated rural development, malaria control, water supply, and other health and sanitation related projects. We work with the Government of Lao PDR on more than 20 other multi-sector projects in five provinces of the country.
 World Vision is a global Christian relief, development and advocacy organization dedicated to working with children, families and communities to overcome poverty and injustice. It serves approximately 100 million people in nearly 100 countries around the world.