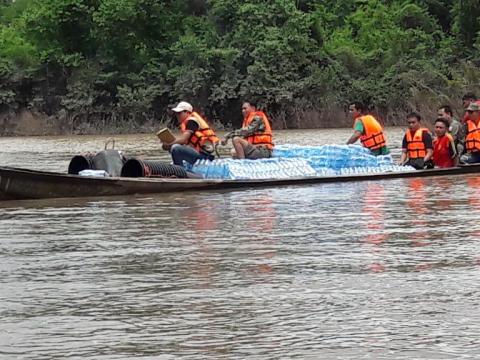 World Vision provides aid to flood-affected families in Laos
Sunday, September 16, 2018
Vientiane, Lao PDR  - Almost two months after devastating floods in Laos, World Vision has already provided immediate aid to 1,725 families through food, clean water, hygiene kits, and shelter assistance.
The water level is receding in most affected areas but roads remains impassable. Boats and big trucks are used to transport the relief items to the villages.
Tropical storm Son-Tinh has affected many provinces in Laos causing heavy rainfall and flooding in Borkeo, Oudomxay, Xayaboury, Luang Prabang, Huaphan, Xiengkhuang, Bolikhamxay, Khammouan, Savannakhet, Xekong and Attapeu.
"This is the largest flood the country has seen in the past ten years. We're doing our best to respond to the needs of the affected children and families" says Mr. Vibol CHAP, Country Program Director, World Vision International Lao PDR.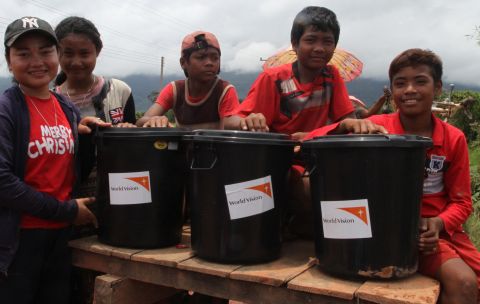 The flooding began on the evening of 24 July 2018, after several days of heavy rain in Attapeu Province has resulted in dangerously high river and dam levels. An incident at the Xepien-Xenamnoy hydropower dam construction in Attapeu province resulted in flash flooding. An estimated 13,100 people have been affected in thirteen villages (eight were more affected) and 587 families were displaced.
The Government has declared the affected area as National Disaster Area.
Homes have been inundated with water; school closed, and rice fields destroyed, hospitals, and irrigation system.  Families are travelling by boat, Helicopter instead of road. This has long-term social-economic impacts as it disrupts the livelihoods and well-being of the local communities.
The first lot of temporary shelters to accommodate 150 households were completed by the end of August. Construction of three others shelters in hard-to-reach locations have not yet started. Emergency shelters are currently overcrowded and space management will be essential to allow the set-up of key infrastructure. Measures are being taken to prevent disease outbreaks.
With predictions of more coming typhoons in Southeast Asia, World Vision is concerned about the damaged crops, livestock and livelihood caused by the flooding. In Laos, many families, in the flood-affected areas, live on subsistence farming and loss of agricultural crops or livestock can push already-impoverished families further into poverty and affect household food security.
World Vision continues to work with the Government of Lao PDR and development partners to provide essential support and services to the affected population.