Flames, a thick cloud of black smoke and calls for help filled the skies yesterday in Horsh Mandara near Qab Elias town in the Bekaa Valley, Lebanon.
It's believed that a "cooking accident" caused the fatal fire that killed end Khaled Douhan - the six month old baby who choked in his sleep.
The fire, which also caused severe injuries to Nawal Douhan a two month old baby and her mother Ghazieh 24, has left 965 refugees homeless.
Oudada Takak, World Vision's Water and Hygiene Progamme Assistant, was the first aid worker to arrive at the camp. "I have worked in Bekaa since 2012. I know these families well. I knew I had to do something," says Odada.
"The blaze started in one tent, the one located directly on the main road, when a gas canister exploded. People tried to control the fire and stop it from spreading to the wheat field close by, but then a second tent caught fire with little Khaled sleeping inside it. The third one ignited and it spread until the whole camp was laid to waste," he continued.
People ran for their lives, they fled with nothing: no ID/papers, no money, no clothes, no mattresses, no food, no medication, no soap and no water. The little they had was devoured by the fire in a scene of utter devastation.
"We left with nothing, I've been wearing these clothes since yesterday, I didn't shower, and didn't sleep," says Khalil Douhan, the uncle of Khaled the deceased baby.
"We tried to control the fire and stop it reaching farmland. But the tents are made of highly flammable plastic. That plus the soaring temperatures made it impossible to stop the fire spreading. The tents caught alight one after another, within 15 minutes the fire had destroyed 97 homes."
The loss of a family member - and all his official papers that entitles him to assistance – left Khalil in shock. He was barely able to finish his sentences.
World Vision was the first organization to quickly respond to families' need, its WASH Team (Water Hygiene and Sanitation) helped putting down the fire, provided families with water, soap and food, in addition to installing and filling big water tanks with 5000 Liters capacity, and installing 15 bathrooms to accommodate the need of the families temporarily.
"In addition to our emergency response, our engineers and WASH experts have been in the field since early this morning to coordinating reconstruction efforts with other partners like Red Cross, UNHCR and the Lebanese MOSA (Lebanese Ministry of Social Affairs)," explains Obada."The owners of the site have given NGOs and families 3 days to clear and rebuild the settlement. We all hope to have it rebuilt in that time," continued Odada.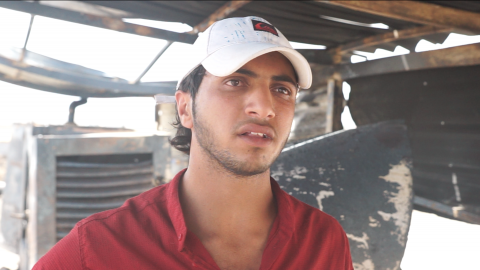 ---
Featured image: The Tented Settlement After Being Laid to Waste by the Fire