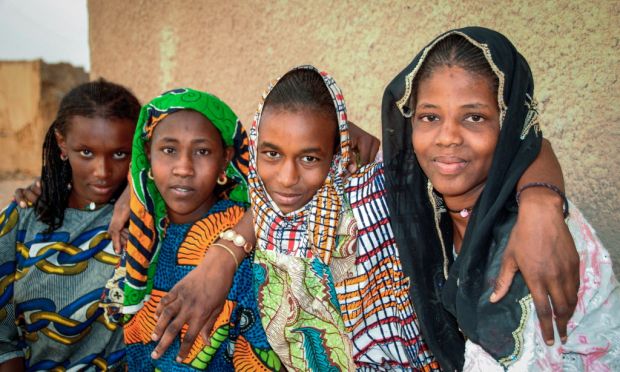 Getting girls educated is a huge challenge in the cattle-rearing village of Twoichiil, a Fulani village with 35 households, 15 kms from Barkeol District in the rural Assaba Region.

In this community, located in flat, dry area, the houses are all made of mud. Both women and men wear traditional clothes, the women covered from top to bottom with only their face exposed, while the men are clad in blue or white boubou with black, blue and white turbans.

The girls who are lucky complete their primary education before getting married at the age of 13 or 14. Many never finish school.

Early marriages, coupled with teenage pregnancies due to lack of education, cause a high maternal mortality rate within this village. In this Fulani village, like many others in Mauritania, girls are married off early as to be found pregnant before they are married is considered sacrilege to the whole family.

Seeing this situation, the Twoichiil community came up with an idea.

Kalidou Mamadou Sow, a pupils' parents' association board member says, "We as parents decided to experiment in getting the first set of girls to gain entrance into secondary school to leave the village and settle in Berkeol which is close to the secondary school to continue their education."

"It was a hard decision at first but after various consultations with parents, the idea was bought," Kalidou says. A house was rented in Barkeol and every girl's family sold a bull to raise money for the rent which is US $19 a month. With consensus reached, Twoichiil community was able to send nine girls to Barkeol secondary school.

Binta Harouna Diallo, a 13-year-old girl in her first year of secondary school says, "I'm proud of my parents who accepted to invest in my education and thankful to World Vision who provided us with food for this whole term."

Binta is glad to stay with her friends from the village: Aissata Kalidou Sow, Houleye Harouna Sow and Haby Alhousseynou Sow in one of the houses rented for the girls' accommodation.

In taking care of the girls, each girl's mother volunteered to take turns watching the girls and preparing food for them, as staying alone would revert to the problem they've being trying to avoid. When the girls settled in Barkeol, the issue of getting sustained basic food supplies like rice, sorghum, cooking oil, fire coal and other cooking utensils became an issue.

"What was raised by the community will only sustain the girls for just a month after paying their rent for a school year," Kalidou says.

Seeing the community's initiative, World Vision stepped in.

Djiby Samba Sy, the Tenmiya Area Development Programme (ADP) Manager says, "We were very happy with this initiative. It will be a model for other communities to follow, as we have constantly sensitised them about girl child education. So we stepped in and we provided all the food supplies for the whole school year."

Djiby further says, "We support this initiative to contribute to the child well-being in the long run as if mothers are not educated it's a challenge for children to enjoy good health, to be educated for life, love their friends and be protected and cared for."

Having a place to stay in, eat enough food and go regularly to attend their classes is a blessing for Binta and her friends at this time where the drought situation hits severely.

Above all, Binta says, "I don't want to get married before I graduate. I want to be a teacher and change life in my village."