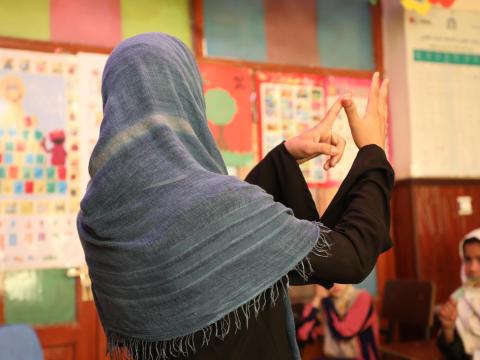 INGOs are calling to lift the ban on Afghan women aid workers extended to UN agencies
Thursday, April 6, 2023
Kabul, Afghanistan, 5 April 2023: The leaders of Save the Children, Norwegian Refugee Council, Danish Refugee Council, INTERSOS, Action Against Hunger and World Vision are calling on the de facto authorities in Afghanistan to lift the ban on Afghan women aid workers that has been extended to UN agencies.
"Without our female staff, the humanitarian community cannot effectively reach women and girls. With more than 28 million people in desperate need of aid to survive, this act will cut off people's lifelines.  
"We call on the De Facto Authorities to lift the ban and allow all female aid workers in Afghanistan to return to work immediately. With Afghanistan facing record levels of hunger the cost of this ban will be measured by lives lost."
Signed by Save the Children, Action Against Hunger, Danish Refugee Council, INTERSOS, Norwegian Refugee Council, World Vision.
ENDS
Notes to Editor 
World Vision began emergency relief operations in Afghanistan in 2001, addressing humanitarian needs of children and their families affected by conflict and natural disaster. Over 20 years later, World Vision Afghanistan continues to partner with communities to provide humanitarian response alongside early recovery, resilience, and development initiatives in the western provinces of Herat, Ghor, Badghis and Faryab. World Vision Afghanistan programming prioritizes maternal and child health, nutrition, WASH (Water, Sanitation & Hygiene), livelihood and food security, education, child protection and multi-purpose cash programming. World Vision works in collaboration with communities holistically to respond, comprehensively meet basic needs, and promote recovery, resilience and community development.
For further information or to organise an interview, please contact: Charles Lawley, WV Afghanistan Interim Advocacy Lead, at charles_lawley@wvi.org.