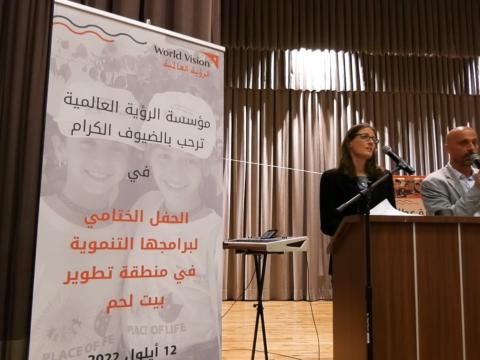 After 20 Successful Years, World Vision Celebrated the Closure of South Bethlehem Area Programme
Friday, September 16, 2022
World Vision Jerusalem West-Bank Gaza is closed its Area Programme in Bethlehem on Monday 12 September, 2022 after 20 years of successful operations.
During these years World Vision implemented projects in different developmental areas such as education, health, social emotional, humanitarian assistance and social change. Major accomplishments were possible due to the generous contributions of the donors, the collaboration with the Government, World Vision Australia, local initiatives, and local partners. 
The collaboration between all parties resulted in having more sustainable communities in the South Bethlehem Area,
World Vision worked with children, families and communities to overcome poverty and injustice and to promote the well-being of children throughout the last 20 years. We worked with more than 22,000 people living in 13 vulnerable areas 80% of them located in Area C (which is considered a marginalised area due lack of access to the governmental services), Children and mothers in these communities are considered vulnerable and marginalised group, since their role is very limited within their families and communities. 
World Vision served 4,920 most vulnerable children in the communities and worked with 26 schools and opened 11 kindergartens through Learning Roots programme.
Yafa is a child who benefited from World Vision programmes in Bethlehem area. She said, ''I am tahnkful that the kindergarten was opened in my community, which helped my friends and myself get prepared for school psychologically and socially".
"World vision has worked for the Palestinian Child aiming to contribute to their development through kindergartens and schools," said Nisreen Amr, the Director of Education in Bethlehem Governorate . 
In addition, in partnership with the 11 village councils, World Vision managed to rehabilitate eight clinics according to the health standards, as well as building 20 health workers capacity in raising awareness on maternal and child health, 4,485 caregivers been supported through Go Baby Go programme.  
Closing Day Celebration
The closing ceremony was an opportunity not only to jointly look back on the work that has been done and the results achieved, but also to celebrate the long-term impact the programmes have, and acknowledge the willingness of the people living in these communities to take ownership in all initiatives.
"We began working with the children of this area who have grown up in this programme to be young people present with us today, it was a wonderful 20 years with the community, we worked with children, adults and families to improve services as it was a wonderful journey. But unfortunately there is always time to leave, there are goals that we could not achieve, but we hope that the capabilities we have built will be catalyst for finding more funding and support in Bethlehem," says Ms. Lauren Taylor, National Director for World Vision Jerusalem West-Bank Gaza.
As well as Mr. Rahel Bethlehem Zonal Manager expressed his happiness and confirmed about the strong partnership with different communities and institutions, as he said that "We have built together and shared joy and sadness, we are one family with the same goal. I am happy with what have been achieved for the Palestinian communities".
ENDS.
For further information or to organize an interview, please contact: info@wvi.org

World Vision is a Christian humanitarian and development organization dedicated to working with children, families and their communities to reach their full potential by tackling the root causes of poverty and injustice.
World Vision serves all people, regardless of religion, race, ethnicity or gender.  For more information, please visit www.wvi.org