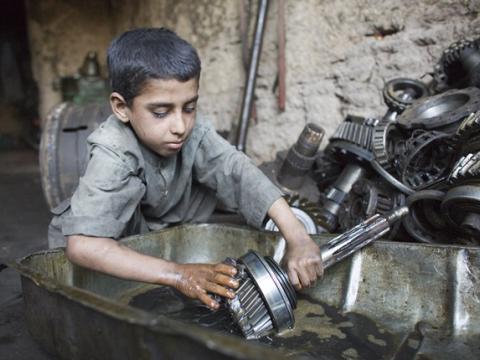 'No excuse for the tragic rise in child labour'
Thursday, June 10, 2021
Thursday, 10 June 2021, In response to today's launch of a new report from UNICEF and ILO in advance of World Day Against Child Labour, Dana Buzducea, World Vision International Advocacy and External Engagement Leader, said:
"Today's news breaks my heart. Child labour is a violation of children's rights.
"We hoped we would not see this day. We have been hearing throughout the COVID-19 crisis about alarming rises in child labour, including begging, as families struggle to make ends meet.
"It's beyond concerning that the latest data in Child Labour: Global estimates 2020, trends and the road forward shows an increase in child labour in the last four years. Unfortunately, what we predicted last year seems to be happening – this pandemic is pushing millions more children into child labour. 
"We know it doesn't have to be this way. For so many families, they feel they have no choice. They believe this, and other negative coping mechanisms, are the only way they can survive. But with funding and support, we can help ensure there are more options. Children deserve this.  
"Children are paying the price for COVID-19. This is the first increase in child labour in over 20 years, and there is simply no excuse for this in the 21st century. With urgent action we can still meet our global commitment of ending child labour by 2025. 
"Ending child labour takes all of us."
World Vision believes:
Governments must increase funding to end violence against children, bolster social protection systems, and ensure equitable access to safe and quality education for girls and boys.
Businesses must also promote decent work in their operations and supply chains, and take the necessary measures to prevent and address child labour.
Civil society must continue to monitor trends, support victims of child labour and hold governments and private sector accountable.
In Afghanistan last year, World Vision research found that almost 50% of families had sent their children to work. In a rapid assessment in the first months of the pandemic, 28% of households in Cambodia faced job and income losses, and were sending children out to work, and in Bangladesh, 34% were sending children to beg.
World Vision is proud has recently made a 2021 Action Pledge, working with the ILO and other partners to achieve SDG 8.7 – ending child labour - during this, the International Year for the Elimination of Child Labour.
Around the world, World Vision is working with communities, parents, and children themselves to end child labour, especially things like sexual exploitation or recruitment into armed groups.
Our child sponsorship programmes in 54 countries help combat child labour by teaching children and communities about their rights, encouraging school enrolment, and helping families improve their incomes.
We're also partnering with a range of companies and governments to prevent child labour in areas where it's especially common, such as the production of certain agricultural products or manufacturing.
ENDS
For further information or to organise an interview, please contact: Niamh Cooper, Director of Media and Social Media Engagement | Email: niamh_cooper@wvi.org | Phone: +353 87 942 3371