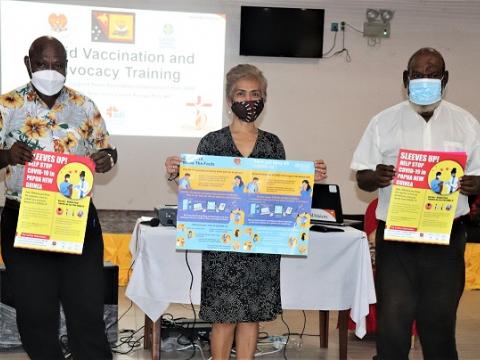 Western PHA launches COVID-19 vaccination campaign in North Fly district
Thursday, June 24, 2021
In a collaborative effort between the Western Provincial Health Authority (WPHA), North Fly District Health Services (NFDHS), and World Vision PNG, the WPHA sanctioned a CoVid-19 vaccination training on 10 June 2021, facilitated by National Department of Health (NDoH) CoVid-19 Vaccination Coordinator for Southern Region Mr. Phillip Vagi.
Kiunga is the capital town of North Fly District (NFD), Western Province. Of all the 3 district capitals (Daru-South, Balimo-Middle), Kiunga is the most progressive and most populous as it is the location of the biggest mine site in PNG-Ok Tedi.

When opening the training workshop, District Health Manager for North Fly District, Mr. Rody Ukin thanked World Vision and partners for organizing the workshop. Following his welcome of participants, Mr. Ukin highlighted that there is much infodemic which has stalled CoVid vaccine uptake in PNG, even amongst health workers. Mr Ukin encouraged the 62 participants which included 2 representatives from the PNG Defence Force and 1 from the Catholic Church to receive the vaccination so they could champion and become advocates in their respective communities.

The CoVid-19 vaccination training targeted health workers, essential staff, and managers from 2 Basic Management Units (BMU) located at Kiunga District Hospital (KDH) and Rumginae Rural Hospital (RRH) and 11 health facilities from all over North Fly District attended the workshop.

WPHA Acting Coordinator Family Health Services, Ms. Lucy Moris encouraged all training participants to immerse themselves in the training as the roll out of the GoPNG "Sleeves Up" campaign rollout was complimentary to that which was launched in Daru and would follow the same rollout phases being implemented by the WPHA in Daru at the moment.

World Vision Chief De Party for Education Imelda Ochavillo expressed that due to the high number of CoVid infections and deaths recorded in Western Province, Western was one of 10 provinces selected to benefit from a new World Vision program called Multi-Sectoral Response Against COVID-19 (MRAC) Project Phase IV (MRAC).

MRAC is a 14-month CoVid response project funded by the Australian Government through the Australian Humanitarian Partnership (AHP) which aims to strengthen the Government of PNG (GoPNG) response to the current CoVid-19 surge in cases, while simultaneously supporting the implementation of the GoPNG National CoVid Vaccination Roll-Out Plan.

The MRAC Phase IV roll out in 10 provinces (including Western Province) and will be managed by World Vision PNG and Save the Children PNG in collaboration with partners Susu Mamas, PNG Assembly of Disabled Persons (PNGADP), CBM and Burnet Institute. Together, their combined operational strengths, complementary approaches and extensive geographic coverage will support PHAs in ten provinces and reach target communities with inclusive Risk Communication and Community Engagement (RCCE) activities delivered through partners' vast community networks.