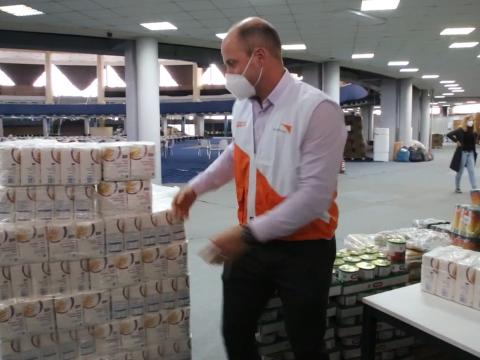 World Vision becomes key donor at Romania's largest refugee centre 
Thursday, March 24, 2022
World Vision delivers $US20,000 of goods to Romania's largest refugee shelter 
Refugees in great need of baby food, formula, hygiene items, bedding 
World Vision scaling up humanitarian aid as total people displaced reaches 10 million 
March 24, 2022 - International aid organisation World Vision has provided $US20,000 of assistance to Romania's largest refugee shelter, as humanitarian needs continue to soar in the country. 
World Vision this week provided essential supplies to the sprawling Romexpo refugee shelter, including baby food, hygiene products, nappies, food items, sterilisers and other items.
The organisation delivered four truckloads of goods – the first of many shipments planned for the shelter – as Ukrainian refugees begin to flood to the centre seeking assistance with basic needs. 
The assistance comes as the total number of displaced people inside and outside Ukraine this week reached almost 10 million - almost a quarter of Ukraine's total population. 
Romexpo is Romania's largest convention facility, part of which has been converted to a temporary, overflow refugee shelter.  
Centre manager at General directorate for social assistance of Bucharest, Cosmina Simean said while the centre was only intended as an overflow accommodation facility and had not been publicly announced, Ukrainian refugees had heard about it via social media networks and have been arriving since mid-March seeking food, clothing and baby items, as well as safety and shelter.  
"Last Thursday we had probably 20 people through the doors, and this week it's already in the hundreds," Ms Simean said. "The need is huge, especially for baby items. The assistance from World Vision is going to help thousands of refugees currently in Bucharest." 
The centre has a capacity for 2,000 beds which is on top of the 6,000 officially provided beds by the Bucharest City Council. Ms Simean said the centre was set up in anticipation of a Russian advance into the city of Odesa, but beds are filling up quickly. There were only 1,000 beds occupied in the city's shelters last Thursday, but by Monday the numbers had already risen to 5,000 occupied beds. The city is predicting an extra 10,000 refugees will head to Bucharest if Odesa becomes caught up in the conflict. 
World Vision's Ukraine refugee response manager, Mike Weickert, said the organisation moved quickly to provide quick-impact, life-saving help to people in great need at the shelter. 
"What we've got here is a shelter already set up and operating, allowing us to step in and provide swift and effective assistance for the refugee population in Bucharest, supplying goods that we know are needed," Mr Weickert said. "This will provide essential help to the mostly mothers and children who have fled Ukraine and will be the first of many supplies that World Vision will provide to the shelter, as we anticipate refugee numbers will continue to grow and people's needs will continue to soar. 
"And with food prices forecast to increase by between 8 and 22 per cent, food will become harder to access for refugees as their individual purchasing power decreases." 
In response to the spiralling crisis, World Vision is scaling up its response in four countries: Romania, Ukraine, Georgia  and Moldova. 
With a presence in Romania for more than three decades, World Vision's locally-led team was able to respond to the Ukraine crisis immediately after the conflict began. It has also been responding to the refugee crisis at, and close to, border crossings, with water, food and hygiene kits, child play areas as well as heaters to the mother-and-child rest stations. 
It has assisted people as they transit the country, and at current estimates is aiming within the first six months alone to reach at least 200,000 people within Romania, 250,000 in Ukraine and 20,000 inside Moldova. 
For more information about the work World Vision is doing to support those affected by the crisis in Ukraine and support our efforts click below.
ENDS. 
Media Contact: 
For further information or to organise an interview, please contact: Leah Donoghue at leah_donoghue@wvi.org