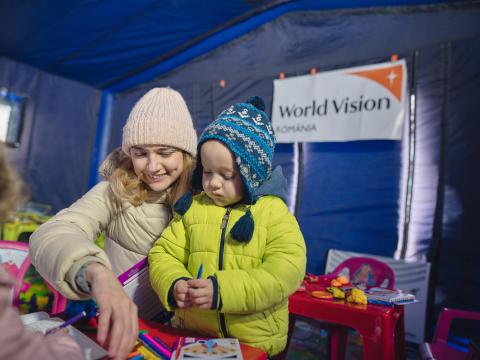 World Vision responds to Ukraine's growing refugee crisis with dedicated play and learning spaces for children
Wednesday, March 16, 2022
In response to the growing humanitarian need within Ukraine and in border countries, international aid organisation World Vision is setting up 'Child Friendly Spaces' (CFS) to help meet the emotional needs of several hundred children impacted.
The organisation is establishing 15 CFSs in the region, in addition to three spaces currently being set up in the Romanian border areas of Husi, Iasi, and Siret. These Child Friendly Spaces will be safe, welcoming areas for children who have been forced to flee their homes in Ukraine due to the conflict, now in its 21st day.

A CFS is a shelter where children can play, learn and express their worries and fears  in a safe environment with trained professionals. Most importantly, at a time when children are experiencing heightened stress and trauma, a CFS gives them a place where they can just be a child and much needed time away from the crisis that has transformed their lives, with other children who are facing the same situation.
World Vision Romania National Director Mihaela Nabâr said the spaces were not solely about play, but also a way for the children to experience aspects of a normal life again.

"Currently, one child every second is being forced to flee their home in Ukraine and seek refuge in neighbouring countries. Some of these children have been on the move for days in freezing temperatures, going from one temporary accommodation to another. Many were forced to flee the comfort of their homes, leaving their clothes and toys, and maybe even pets behind. Their lives have changed in an instant, and for children, who need routine and familiarity, this has been deeply distressing," Ms Nabâr said.

"World Vision research has shown that conflict has severe and long-term impacts on children.  It is vitally important for children who have been forced to flee Ukraine to quickly retrieve some kind of routine, have something to look forward to and have something familiar they can enjoy. And this is what a CFS can partly provide."
The UN estimates that more than 3 million refugees have now fled Ukraine, with more than half of those estimated to be children. Numbers continue to increase; 15 March saw a 10% increase in Ukrainians fleeing for Romania compared to the day before.

Ms Nabâr said many of the children arriving in Romania had witnessed fighting - or worse - and had seen their homes and communities damaged or destroyed.

"Many of these children lost everything they knew when the conflict began," she said. "What we hope to do is to help them to start dealing with the trauma of war and the stress of being uprooted from their homes, communities, friends and schools.

"What this crisis is doing to children is hard to imagine. There will be long-term effects for these children because they have experienced real fear. Therefore, to feel safe is extremely important - safety allows them to explore and to dream."

The tents and equipment that form CFS's  arrived in Romania from Germany on Monday and will be despatched to centres which are experiencing a steady flow of refugees and internally displaced people.

CFSs are not a replacement for education for children whose schooling has been disrupted, but are a stop-gap measure to restore some normality and stimulation.

"Longer term, World Vision will obviously be seeking to integrate children into society and get them back into regular education," Ms  Nabâr said. With a presence in Romania for over three decades, World Vision's locally led team was able to respond to the Ukraine crisis immediately, as soon as the conflict began. It has also been responding to the refugee crisis at, and close to border crossings, with water, food and hygiene kits and child play areas, as well as heaters for mother-and-child rest stations. It is expanding its response, not only in Romania but also in Ukraine and Moldova.
"As a child-focused organisation, the physical and mental wellbeing of children impacted by this conflict is World Vision's priority concern. How children are treated and cared for in these initial stages will have a long-term impact on how they cope with this crisis situation. It is essential that they get every support possible to deal with the traumatic effects of this conflict, in the short and long term, and that mental health support is a prioritised."

For more information about the work World Vision is doing to support those affected by the crisis in Ukraine and support our efforts click below.
Media Contact:
For further information or to organise an interview, please contact: Leah Donoghue at leah_donoghue@wvi.org.
Note to Editor 
World Vision is a Christian humanitarian organisation dedicated to working with children, families and their communities to reach their full potential by tackling the root causes of poverty and injustice. World Vision serves all people, regardless of religion, race, ethnicity or gender.  For more information, please visit www.wvi.org or follow us on Twitter @WorldVision.