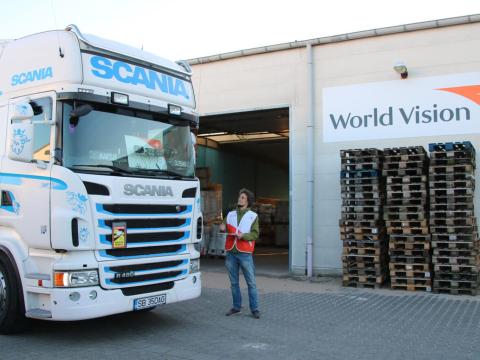 World Vision scales up response as Ukraine refugee numbers hit 3 million 
Tuesday, March 15, 2022
Ukraine refugee numbers hit 3 million well ahead of projections 

Need for basic food and hygiene supplies within Ukraine is increasing at a rapid rate 
World Vision is scaling up humanitarian aid to reach vulnerable children and adults displaced and affected by the conflict 
International aid organisation World Vision is swiftly ramping up its response to the Ukraine refugee crisis, as the number of refugees today hit a staggering 3 million. 
 
The 3 million mark has come just 20 days into the conflict and well ahead of initial projections. The United Nations' earlier estimates projected 4 million refugees by July, however, the conflict has already seen 3 million people fleeing to safety across Ukraine's borders, as the fighting has intensified. 
 
That figure does not include internally displaced Ukrainians, or people seeking refuge in cities and towns within Ukraine itself. The UN puts that figure around 770,000. 
As number of those in need of support spiral, World Vision is scaling up its response in three countries: Romania, Ukraine and Moldova.  
With a presence in Romania for more than three decades, World Vision's locally-led team was able to respond to the Ukraine crisis immediately, as soon as the conflict began. It has also been responding to the refugee crisis at, and close to border crossings, with water, food and hygiene kits, child play areas as well as heaters to the mother-and-child rest stations. 
 
The child-focused NGO has also assisted people as they transit the country, and at current estimates is aiming to reach at 200,000 people within Romania, 50,000 within Ukraine and 20,000 inside Moldova. It is also supporting many of the estimated 4,500 refugees who have fled to Georgia. 
World Vision's Global Director of Humanitarian Operations Isabel Gomes said that the organisation is dealing with a massive humanitarian crisis and is shocked at how quickly the situation has deteriorated. 
"What was a flow of refugees out of Ukraine has now become an exodus," Ms Gomes said. "The situations we are witnessing in neighbouring countries are bad enough, but we are also hearing dreadful stories of the desperation and deprivation inside Ukraine, of people who are hungry, without consistent shelter and without livelihoods. 
"It is imperative that as well as supporting the millions who have fled Ukraine, we must also reach the many tens of thousands impacted inside the country." 
ENDS.  
 
Media Contact:  
For further information or to organise an interview, please contact: Leah Donoghue at leah_donoghue@wvi.org