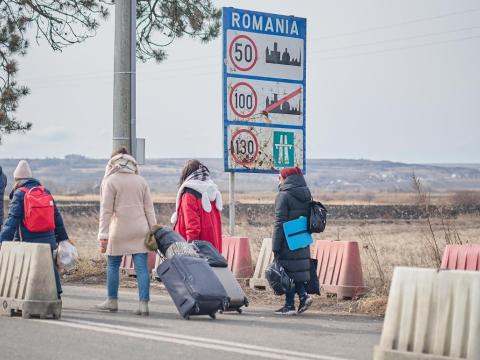 World Vision warns of growing human trafficking risk for women fleeing Ukraine on International Women's Day 
Tuesday, March 8, 2022
World Vision has warned that the conflict has exponentially increased the number of vulnerable women, due to displacement and death of loved ones 

A survey of girls and young women in Romania shows the prevalence of human trafficking in the country, which is taking in tens of thousands of refugees from Ukraine 

The stark warning for Ukrainian women and girls comes as the world marks International Women's Day 2022 
Human trafficking of Ukrainian women has emerged to be a dangerous by-product of the country's conflict-fuelled refugee crisis, according to international aid organisation World Vision. The warning comes as International Women's Day falls on the 13th day of the Ukrainian conflict.   
A survey by World Vision's office in Romania, a country receiving large numbers of Ukrainian refugees, has confirmed the prevalence of human trafficking in the country. A study of 200 girls from Romania, aged 14-19, found 97 per cent of respondents had heard of instances of human trafficking, with more than half (53 per cent) believing women are most at risk. 
When asked how they would describe human trafficking in Romania, 72 per cent said prostitution, being kidnapped (67 per cent), being bought or sold (65 per cent), forced labour (34 per cent) and forced begging (30 per cent). 
World Vision is actively responding both inside Ukraine through distributing urgently needed food and hospital supplies, as well as providing support to refugees at a number of border crossings in Romania, since the onset of the conflict. 
World Vision Middle East and Eastern Europe Regional Office Regional Leader Eleanor Monbiot OBE - who has been leading World Vision's response to the Ukraine crisis and many other ongoing conflicts, such as Syria and Afghanistan – says:  
"Even before this conflict, areas of Eastern Europe had posed a high risk to vulnerable women of falling victim to human trafficking," Ms Monbiot said. "But the Ukrainian conflict is causing many more women to become vulnerable to trafficking. Displacement, suddenly falling into extreme poverty, being widowed, losing, or being separated from family members and many other characteristics of this conflict, are creating countless more vulnerable women every hour.  
"This International Women's Day, the number of women who are at risk of traffickers capitalising on their vulnerabilities is growing exponentially. This could be done through fraudulent travel and/or employment arrangements.  
"In recent years, we have seen that the majority of human trafficking victims detected in Europe have come from the Balkans and the former Soviet Union, in particular Ukraine, Romania Bulgaria, Russia and Moldova." 
Mihaela Nabăr, National Director of World Vision Romania – the office which has spearheaded World Vision's response in supporting refugees in Romania, and across borders, as well as to vulnerable people inside Ukraine, says: 
"Today, we celebrate women across the globe. But our thoughts and prayers in this difficult time turn to the most vulnerable women from Ukraine. The refugees that entered into Romania over the last week are mostly women; often mothers with two or three children that need care, pregnant women or young women escaping the conflict. They are scared and exhausted following days of walking to reach the border. However, they are not just afraid for themselves - many are afraid for their children, for the parents or the spouses they left at home.  
"The risk of human trafficking here in Eastern Europe was growing even before the Ukraine conflict. Now that risk is even larger."  

Media Contact:  
For further information or to organise an interview, please contact: Leah Donoghue at leah_donoghue@wvi.org  
Note to Editor 
World Vision is a Christian humanitarian organisation dedicated to working with children, families and their communities to reach their full potential by tackling the root causes of poverty and injustice. World Vision serves all people, regardless of religion, race, ethnicity or gender.  For more information, please visit www.wvi.org or follow us on Twitter @WorldVision