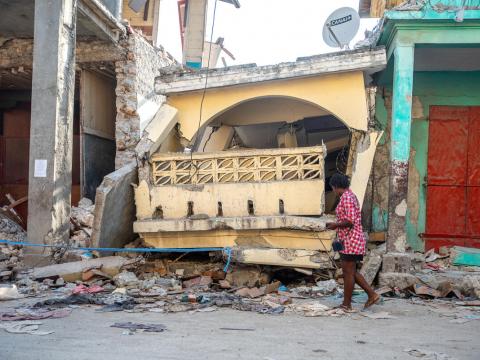 World Vision: Heavy rains stalls deployment of aid to Haiti
Wednesday, August 18, 2021
PORT-AU-PRINCE (August 18, 2021) — Heavy rains pouring over the southwest of Haiti since Monday evening have led to the temporary suspension of flights from the capital city, Port-au-Prince to transport urgent humanitarian aid to assist the most vulnerable people affected by last Saturday's 7.2-magnitude earthquake.
"Our teams on the ground witnessed families laying in the open, without shelter, and unable to obtain a dry place where to stay. Meanwhile, flights to move life-saving items were suspended given to the ill weather caused by tropical storm Grace," said Marcelo Viscarra, National Director of World Vision Haiti.
Grace, a tropical storm has poured three to five inches of rain in some areas, and even 15 inches in some regions in southwest of Haiti, with 50 mph winds. In Jeremie, streets are covered with mud, and in the southernmost areas, there are reports of flashfloods. The storm is moving west and picking up speed.
"It's been raining since last night and even now. We also had strong winds," said Guy Vital-Herne, World Vision's Communications Officer who is in Jeremie.
"People were crying out for the wind and rains, the only things they had to cover themselves were some bedsheets. Those who were able to save some items from under the rubble saw their belongings drenched by the rain," he added.
Saturday's 7.2-magnitude earthquake has been followed by constant aftershocks. Recent reports account for more than 1,941 deaths and 9,900 injured. Thousands of homes and buildings collapsed due to the violent quake.
To prevent accidents and for security reasons, private flights and those planned as part of the humanitarian response were suspended. "We expect to pick up speed and reach people in dire and extreme needs as soon as possible. We ask for your prayers to have better conditions in the coming days to deliver aid," said Viscarra.
World Vision will focus its response to the emergency due to the earthquake in four key areas: nutrition, WASH, shelter and child protection, especially for those children in orphanages, providing psycho-social support and emotional contention, after such a traumatic experience.
/ENDS
For further information or to organise an interview, please contact:
Niamh Cooper |  Director of Media and Social Media Engagement | niamh_cooper@wvi.org | Skype: Niamh.cooper5 | Phone: +353 87 942 3371