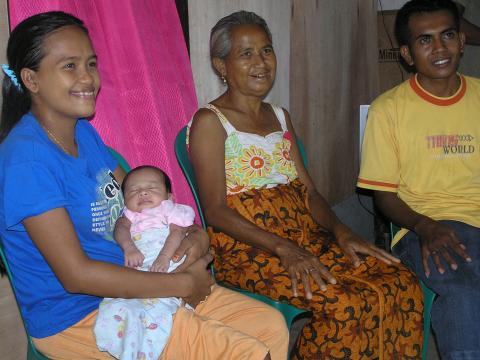 Indonesian dad a strong advocate for breastfeeding
Monday, August 1, 2016
Maksi, one of World Vision's staff members on the Indonesian island of Rote, embarked on a personal mission to protect the fundamental rights of his child. Through training provided by World Vision to project and health centre staff, Maksi learned about the importance of breastfeeding for proper infant development. He saw the dramatic video of the breast crawl, a natural phenomenon in which the infant self-initiates breastfeeding within the first hour after birth, and took a copy of the video home to show his wife, Deci, then pregnant with their first child. This began Maksi's role as an advocate for breastfeeding.
Rote has high rates of malnutrition. One contributing factor is the extremely low rate of exclusive breastfeeding. Grandmothers traditionally teach young mothers to give sugar syrup to infants starting immediately after birth because it is believed that the sugar provides strength to the baby, and even to adults. The sugar syrup is a mixture of palm sugar and water that is boiled to a thick consistency.
Deci gave birth to a 3kg (6.6lb) baby girl, Philia, in the health centre, with help from the midwife. As tradition demanded, Philia's maternal and paternal grandmothers arrived soon after the delivery to give her sugar syrup, but Maksi refused to allow this. The grandmothers were extremely unhappy about his decision and protested. Maksi was able to get support from the health centre staff; however, upon returning home, both grandmothers continued to pressure Deci to give the infant sugar syrup. Worried that the grandmothers would try to sneak into the house to give Philia the sugar syrup, Maksi slept in the doorway of the house to prevent them from entering during the night! By showing the grandmothers the breast crawl video, telling them about the benefits of exclusive breastfeeding, and getting reinforcement from World Vision's nutrition coordinator and manager, Deci was able to continue exclusive breastfeeding.
Maksi's advocacy intervention demonstrates that fathers can play a critical role in ensuring their children get the best start in life. Exclusive breastfeeding ensures that new members of the family receive adequate nutritious food starting from birth. It's their right!