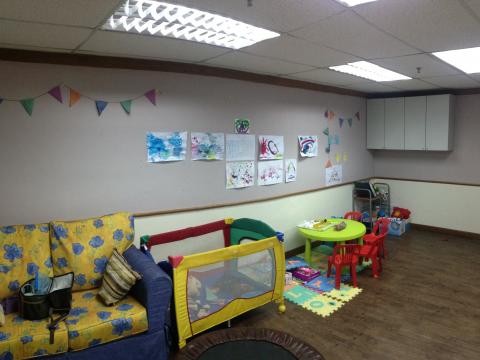 World Vision's Mother-Baby Friendly Office Movement
Friday, July 31, 2015
A number of World Vision offices in the Asia Pacific Region have taken important steps to support employees who are breastfeeding mothers through initiating a Mother-Baby Friendly Office (MBFO) movement. The idea originated at a World Vision Regional Infant and Young Child Feeding Advocacy and Policy Course facilitated by Felicity Savage King in 2010. As an organization dedicated to child well-being, World Vision is leading by example in ensuring that the children of staff members have full access to the same life-saving and health-strengthening benefits of breastfeeding that are promoted in the communities in which World Vision works.
 The movement is guided by ten proposed steps for MBFO, as shown below. Each participating office is working towards incorporating one or more of these vital elements into policy and practice.
Several offices have extended maternity and/or paternity leave benefits beyond the nationally legislated requirement. For example, World Vision India extended maternity benefits from four to six months, and World Vision Bangladesh is preparing to introduce an updated policy granting 180 calendar days (six months) of paid maternity leave and 5 working days of paternity leave to employees who are new parents. This greatly exceeds the legislated maternity leave of eight weeks (two months) after childbirth plus up to eight weeks prenatally.
Some World Vision offices have established comfortable, cheerful breastfeeding rooms where employees can nurse their babies or express and store breastmilk to be taken home later. Others have nurseries on site, where mothers can breastfeed their infants during work breaks and then leave them in the care of child care workers. World Vision Bangladesh has established breastfeeding corners in each Area Development Program, allowing new mothers to breastfeed at work. World Vision Mongolia staff have access to a day care within their building. World Vision Cambodia has a daycare room and a lactation room. World Vision Malaysia has combined a breastfeeding room together with an on-site nursery, with child care available (see photos above and below).
World Vision Myanmar has a breastfeeding room in the National Office, and staff members are encouraged to bring their babies to work. In some Area Development Programme (ADP) offices, where space constraints make it difficult to set up breastfeeding rooms, staff are instead given time to regularly return home during the day and breastfeed their babies.
Aye Aye Myat, World Vision staff member at Dagon Seikkan ADP, commented about her experience returning to work: "I returned to work when my daughter turned three months old, but as I wanted to feed her breast milk, I took her to the office. Everyone in the office, sometimes even my manager, helped me to look after my child. I am glad and also proud that I was able to breastfeed my baby for six months. That's the best thing that I could do for my child. I will continue to practice breastfeeding and complementary feeding until my daughter reaches 1,000 days. I want to thank my colleagues who enabled me to feed my child and supported the policy."
 Other World Vision offices, such as Nepal, offers flexible hours so new mothers can come to work later and leave earlier. World Vision Indonesia offers flexible working hours and limits travel requirements for mothers with children under two. In addition to providing a lactation room, World Vision Indonesia also provides information and training to staff on breastfeeding and infant and young child feeding (example of training materials below). Read about how staff training on exclusive breastfeeding impacted a World Vision Indonesia staff member and his family.
Breastfeeding benefits everyone—babies, mothers, families, employers and society. Protecting and promoting breastfeeding in the workplace is an ideal way to invest in both the well-being of today's workers and the healthy development of the next generation. 
What are you doing to make your own work environment more mother-baby-friendly? We'd love to hear about how you promote and support breastfeeding in the workplace. Send your stories to nutrition@wvi.org.