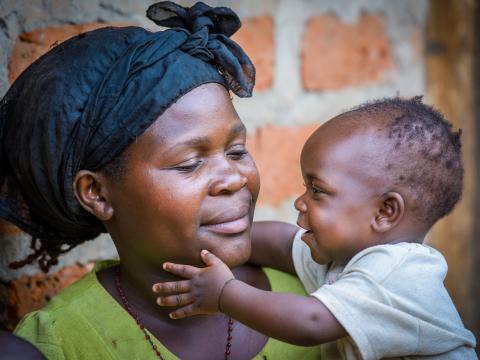 Other: Birth Registration
When a child is born, it is important to register the birth so that the parents and the government have record of the child's birth which includes date of birth, ethnicity, gender and parent affiliation. 
Definitions: 
Birth registration is the official recording of a child's birth by the State. It is a permanent and official record of a child's existence. Birth registration is part of an effective civil registration system that acknowledges the person's existence before the law, establishes family ties and tracks the major events of an individual's life, from live birth to marriage and death. 
A birth notification is the notice of the occurrence of a birth by midwifes or others to civil registrars, who then register the birth. 
A birth certificate is a personal document issued to an individual by the state to prove that their birth has been registered. 
Target Behaviours: 
The child's birth is registered during the first month of life. 
Questions: 
What is a birth certificate? 
A birth certificate is a very important document which shows: 
What a child's name is
Where the child was born
 When the child was born
 Who the child's parents are
Why should I get my child registered? 
First, it is the right of every child to have their birth registered as well as to have a name and nationality. These rights are enshrined in international human rights law through the Convention on the Rights of the Child (CRC) and other treaties. Recording a child's name ensures their right to an identity.
Second, it is a legal requirement to register births in most countries. In Zimbabwe, for example, the Birth and Death Registration Act makes birth registration mandatory for every child and if the responsible person does not register the birth, he or she has committed an offence punishable under law.
Third, birth registration often signifies the beginning of the legal contract between the individual and the State known as citizenship. Birth registration serves as important proof of the place of birth and parentage, and while birth registration does not in itself give citizenship to the child, it is often essential to acquire citizenship based on each country's laws. 
What are the benefits of having children registered and obtaining birth certificates? 
A birth certificate may be required especially for vulnerable children to obtain access to basic services such as health, education and social welfare.
It can also help to protect children from situations of exploitation and violence, such as child marriage and child labour, and achieve convictions against those who have abused a child and can protect children from trafficking, as well as under-age military service and ensure that children are recognized as a child before the law.
In adulthood, birth certificates may be needed for many purposes: to obtain social security or a job in the formal sector; to buy or prove the right to inherit property; to obtain identity cards; to vote; and to obtain a passport.
Birth registration is part of national civil registration systems that also record deaths and marriages. Civil registration provides the data that are needed by governments to track the size and trends of their populations. This information helps governments to plan what services children and communities will need in the future.
When should I get my child registered?
You should get your child registered as soon after they have been born as possible. Many countries will charge a fee for late registration, often after 3 months – please check what the deadline is in your country.
What is the process for getting my child registered?  
The first step is that a notification of birth is issued, usually by the health institution and birth attendants if the baby was born at a health facility, or in a few situations by a local government official or a village chief.
 The second step is for the informant, who is usually the mother or father to make a declaration of the birth to the Civil Registrar.
 Third, the registration is generally followed by the Civil Registrar issuing a birth certificate that is personalized in a secure manner on a secure base paper. 
Where should I get my child registered? 
Birth registration is usually done at an office of the Civil Registrar. There should be Civil Registration Offices in all districts and usually the parents can go to the nearest Office.
Other questions and answers can be found in the Facilitator's Guide to 7-11