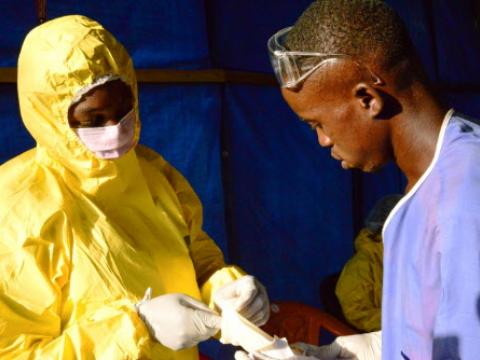 Our Response
World Vision Sierra Leone is working in many of the affected communities already. In addition to existing programming, we have:
Conducted community stakeholder engagement with participants including youth teachers, faith-based leaders, town chiefs, students and women's support group leaders. 

Provided 4 million pieces of protective equipment for health workers and frontline staff, including gloves, aprons, shoe covers, surgical masks, coveralls, etc. 

Trained 40 community health workers on Ebola signs and symptoms and contact tracing.

Social mobilisation and advocacy messaging: broadcast Ebola messages on community radios in 4 operational areas and conducted 22 market place sensitisations.
Trained 40 Nurses on infection prevention and control.

Provided support to 13 households with 20 registered children and their families in quarantined homes in programme areas with food, cleaning materials and PPEs.

Schools are closed, and World Vision is supporting the Ministry of Education  by providing computers for teachers and solar lights, so they are able to prepare their lessons even if power fails. World Vision has also provided voice recorders, stationery, memory sticks and DVDs to store the lessons.
Safe and dignified burials that respect health restrictions and spiritual dimensions of families and communities.