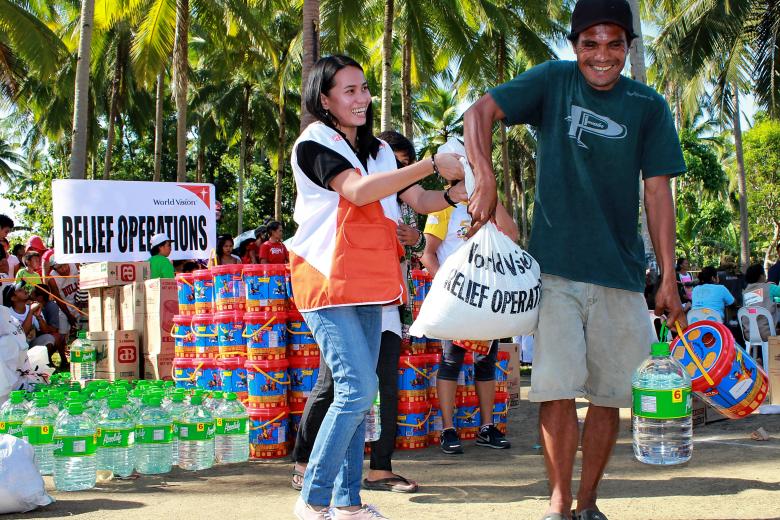 Philippines: World Vision intensifies relief drive for quake survivors
Wednesday, October 30, 2013
29 October 2013 - by: Aaron Aspi, Emergency Communications Specialist
Unfazed by recurring aftershocks and damaged roads in Bohol, World Vision relief teams scale up its emergency response to assist 50,000 people affected by the 15 October Central Visayas earthquake. In coordination with local authorities and community partners, World Vision ensures that relief operations are carried out appropriately to serve the most vulnerable families. 
World Vision associate director for Visayas, Ernie Macabenta, who also hails from Bohol, shares, "Relief operations is a time to foster greater unity between NGOs, local government responders and disaster-affected communities. Humanitarian actors must work together to address the urgent needs of affected families."
Assessment teams continue seek out quake stricken families in the towns of San Isidro, Loboc, Antequera, Maribojoc and Catigbian. Hundreds of volunteers help  at the World Vision relief center, a school gym converted to a warehouse, where relief supplies have been sorted, packed, and carried to delivery trucks. 
World Vision delivered food, water, and hygiene packs to at least 2743 families in Sagbayan, the quake's epicenter, and in nearby Danao. Tents used as temporary living spaces were provided to 154 families in the hard to reach areas of Antequera and Catigbian. World Vision aims to provide relief assistance for 10,000 families and shelter materials to 4000 families who lost their homes.
Uncertainty remains for more than 360,000 people who remain displaced, living in shelter camps. Authorities estimate that almost 57,000 houses were destroyed by the quake. The number of deaths has now exceeded 218 with 768 injured and 8 still missing.
The government also reports that the quake destroyed over PHP 1.644 billion worth of infrastructure in Bohol, Cebu and other the affected islands of Central Visayas. Bohol's economy, which thrives on eco-tourism, have been heavily affected due to the massive devastation of famous sites. Bohol's agricultural production has also been hampered due to extensive damage of water irrigation systems. 
After the initial relief phase, World Vision is looking at recovery programs to assist communities in rebuilding their homes and livelihoods.