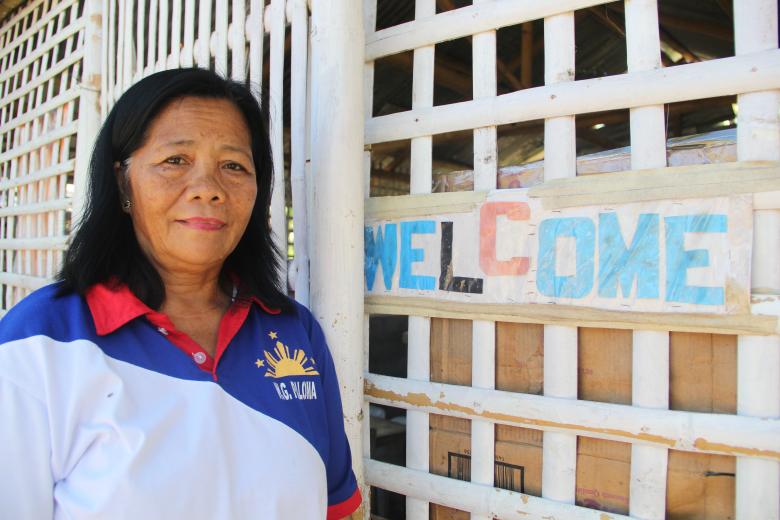 Women leaders rise from Haiyan woes
Thursday, March 6, 2014
The strongest of women leaders are emerging from Haiyan's aftermath. Wilma Paloma is showing us how. She leads an entire village with more than 600 families. After typhoon Haiyan ravaged their village in the province of Aklan, she is now left with the daunting task of leading her village towards recovery.
Leadership and participation of women in village councils are gaining ground in the Philippines' most vulnerable and disaster-prone areas. Recognizing their strengths and capabilities, women like Wilma can lead even after a strong typhoon like Haiyan.
According to her, "The relief assistance that we received in the aftermath of the storm sustained us for weeks as we head back to our fields to clear our farms and plant. Now it's time to harvest and we're reaping the fruits of our hard work." 
We cannot be idle after the typhoon, community activities help people to get back to shape.
Wilma is widely accepted by the community and her peers in the village council. It's her first term as village leader but it doesn't show. Emerging as a woman leader in a traditional farming community is no easy feat. Winning the hearts of the people was brought by a life-long commitment of serving the poorest.
Under her leadership together with the village council, they partnered and helped build World Vision-assisted  day care centers that are now serving children even in the farthest areas of the community. The community's health program has also become a priority with health centers properly managed and stocked with supplies.  
"I was also a survivor of a strong storm that destroyed our house and the entire village 30 years ago. Our house was destroyed and my aunt who was a health worker entrusted the upkeep of the health center to me. I lived there with my husband for months learning the ropes of providing healthcare to those in need. I even learned how to give birth there," Wilma recalls.
From then on Wilma has dedicated her life in serving the needs of the village serving for more than 15 years as a village health worker and 9 years in the village council member. She has become a strong partner of World Vision in previous community projects that benefited children in their community. 
Wilma balances her duties as a village head and as a devoted mother. She ends her busy day with a family dinner that she religiously prepares. As the community's "mother" she is determined and she strongly believes that with help from the government and NGO's her community can bounce back again.
"We cannot be idle after the typhoon, community activities help people to get back to shape. Health centers continue to immunize children. We have to make sure that these services are made available all the more after the storm," she shares.
The village health center was destroyed but now it's clean and usable with a tarpaulin partially covering the front side of the building. Wilma said she's following up for government funds for additional repairs and healthcare supplies.
Recognizing the community's capability World Vision is setting up cash-for-work projects in this area. People are now being mobilized for different recovery work in the community. Families whose homes are destroyed and in need of repair can also avail of the shelter assistance project. 
Hundreds of households are going to benefit from the emergency assistance that would help support for their basic needs in the coming months.
Wilma and the village council have done their task of creating a village resolution encouraging people to take part in the recovery project. Village consultations are scheduled and people are being prepared for 10 days of community work. Every participating household is entitled to Php 2600 (est. USD 60) after completing an entire work cycle.  
"People here in our community are doing what they can to restore their livelihood and houses. They cannot just sit and wait for help to come. Everyone must do their part for the village to be whole again," Wilma says.