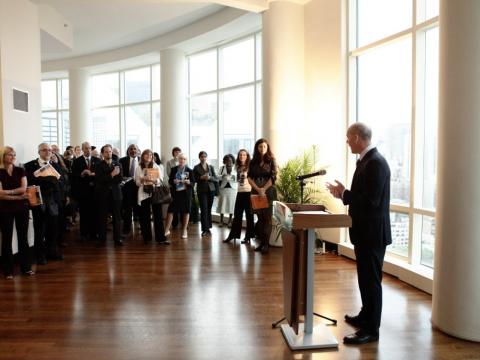 The Best Start
Wednesday, September 21, 2011
We are officially launching World Vision's contribution to research and policy in the area of nutrition in a report we call, "The Best Start - Saving Children's Lives In Their First 1,000 Days."
This document, The Best Start, focuses us on the fact that for many people getting 'daily bread' is not guaranteed by law or the economy … or even by the virtue of a person's hard work.
Today, 12 million people in the Horn of Africa are reported to be at risk of severe malnutrition or worse. Across Africa, South-East Asia, and elsewhere around the world, the long-term effects of sustained hunger contribute to the deaths of three million children each year - that's 10 classrooms of children dying every hour.
Unfortunately, it's even worse than that. Millions more suffer permanent physical and mental impairment, interrupted schooling, and decreased lifetime income from work.
Everyone here already knows these statistics. They are appalling. Yet for some reason gruesome statistics on the devastation caused by hunger don't seem to galvanise passion or action in the same way that numbers a fraction this size would in the developed world if related to terrorism … or even traffic accidents. 
I regularly remind World Vision staff that our work is about individual people, not statistics.
People like Gaalo, a young mother in northern Somalia whose husband died of a snakebite while scavenging for food after their maize harvest failed. She walked for 15 days to the regional capital. Along the way, two of her children died and she gave birth to a baby. Her six year old, Khaled, was skeletally thin with diarrhoea and dehydration by the time World Vision staff met them and were able to save his life.
World Vision has worked with the FAO and others for more than a decade in Somalia … with tremendous results. We hope that it will not be long before we are able to resume the work of re-building agriculture in that tormented country.
I have seen this kind of emergency food intervention first-hand, in northern Kenya. 10-year-old Ekidor told me that a relief food programme – directed by WFP and World Vision – had saved his mother's life and enabled him to go to school for the first time.
As the report makes clear, it's not just sudden food emergencies that concern us, but the long-term devastation of persistent undernutrition. In North Korea last month I visited schools and children's homes, and the long-term effects of an inadequate supply of nutritious food became very clear to me.
In committing ourselves to the Millennium Development Goals, we pledged to cut child mortality by two-thirds. We have less than four years, so time is short. Our success or failure will largely turn on how well we tackle under-nutrition. This will require the vigorous and persistent efforts of many of us working together.
I was honoured to serve on the World Health Organisation's Commission on Accountability for promises made by nations toward the Secretary General's Every Woman Every Child campaign. In its first year – and even this week – we have seen tremendous progress. Now, we need to ensure that these national and global agreements result in real change for real people living in the poorest communities around the world.
I hope that you are encouraged, as I am, by the good news in this report. There is nothing new that we need to invent. In fact, it's pretty clear what we need to do.
We must scale up education for mothers and pregnant women, energetically promote breast-feeding and encourage the provision of a varied diet for infants.
In contexts where it's not possible to vary a child's diet due to a food crises or other reasons, vitamin A supplements costing as little as $1.20 per child for a whole year could alone reduce death rates by 25%. Zinc supplements in places where diarrhoea is endemic could save a million young lives over the next three years.
Let's commit ourselves to providing the leadership and influence that will help our generation be remembered as one that treated the world's hungriest children as though they were our own.
Helping children survive and thrive is crucial for the future health of every community. Feeding children properly during their first 1,000 days may be the most important building block in that undertaking.