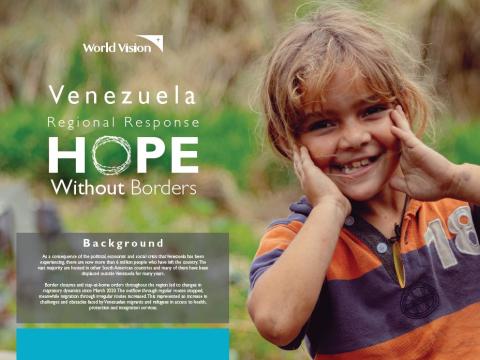 Capacity Statement: Hope Without Borders Venezuela regional response
Thursday, February 3, 2022
In response to the Venezuela migration crisis, World Vision acts within a framework of respect and compliance with international humanitarian standards and principles. Our response integrates three fundamental pillars: Development, Humanitarian Affairs and Advocacy. Our interventions seek to address humanitarian needs that save lives, protect affected communities and work toward development and sustainability.
We have been able to implement a coordinated, contextualized and multi-sectorial response in 308 municipalities in seven countries across the region. These strategic program locations include key border areas with the greatest influx of migrants from Venezuela, as well as critical points commonly used along migrant routes through Colombia, Brazil, and other countries in the region. We also consider geographical, social, and other risk factors that contribute to high vulnerability among children and families in Venezuela and those who have left the country.
Last Mile Mobile Solutions (LMMS) is an integral technology that enables us to scale our food-security programming in Venezuela. Learn more about LMMS here.