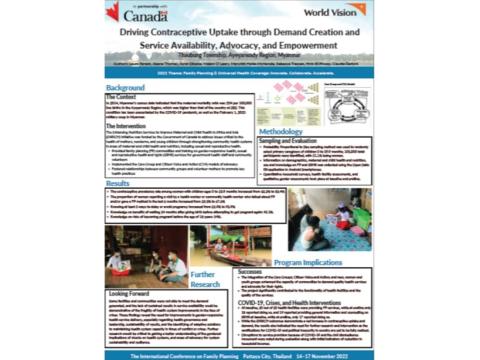 ICFP Poster on ENRICH Project
Thursday, November 10, 2022
Poster: Driving Contraceptive Uptake through Demand Creation and Service Availability, Advocacy, and Empowerment in Thaubung Township, Ayeyarwady Region, Myanmar
Presented at the International Conference on Family Planning, Pattaya City, Thailand, Nov 14-17, 2022.
Authors: Laura Parent, Abena Thomas, Asrat Dibaba, Melani O'Leary, Merydth Holte-McKenzie, Rebecca Tiessen, Hnin Ei Phway, Claudia Berloni
 The Enhancing Nutrition Services to Improve Maternal and Child Health in Africa and Asia (ENRICH) initiative was funded by the Government of Canada to address issues critical to the health of mothers, newborns, and young children through strengthening community health systems in areas of maternal and child health and nutrition, including sexual and reproductive health.
Provided family planning (FP) commodities and training on gender-responsive health, sexual and reproductive health and rights (SRHR) services for government health staff and community volunteers
Implemented the Care Group and Citizen Voice and Action models of advocacy
Fostered relationships between community groups and volunteer mothers to promote key health practices
Successes
The integration of the Care Group; Citizen Voice and Action; and men, women and youth groups enhanced the capacity of communities to demand quality health services and advocate for their rights.
The project significantly contributed to the functionality of health facilities and the quality of the services.
COVID-19, Crises, and Health Interventions
At baseline, 20 out of 20 health facilities were providing FP services, while at endline only 18 reported doing so, and 19 reported providing general information and counselling on SRHR at baseline, while at endline, only 17 reported doing so.
While the ENRICH outcomes demonstrate a net increase in contraceptive uptake and demand, the results also indicated the need for further research and intervention as the ramifications for COVID-19 and political insecurity in country are yet to be fully realized.
Disruptions to service provision because of COVID-19 and the civil disobedience movement were noted during evaluation along with initial indicators of reduction in household incomes.