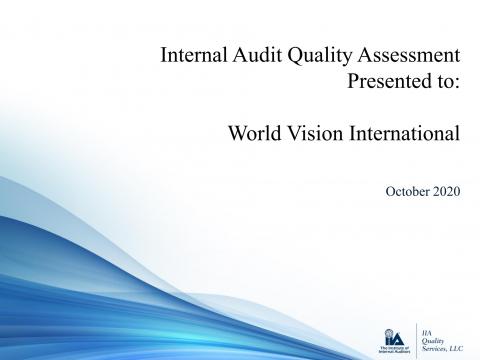 Internal Audit Quality Assessment
Monday, February 15, 2021
According to its Charter, and in line with mandatory guidance from the Institute of Internal Auditors' (IIA), Global Internal Audit (GIA) must have an External Quality Assessment performed at least every five years. The Institute of Internal Auditors (IIA) was appointed to do the 2020 assessment, which was completed in August 2020.
World Vision received the top level of conformance rating (i.e. "Generally Conforms" rating for each individual Standard), which demonstrates a clear intent and commitment to achieving the Core Principles and Standards for the Professional Practice of Internal Auditing. This gives assurance to all stakeholders that World Vision has a top-quality, independent and professional assurance and advisory function in place for the continuous improvement of its governance, risk management and internal control processes.
The EQA results can be viewed in the following summary. A more detailed report is available on request from Mario_Perez@wvi.org.