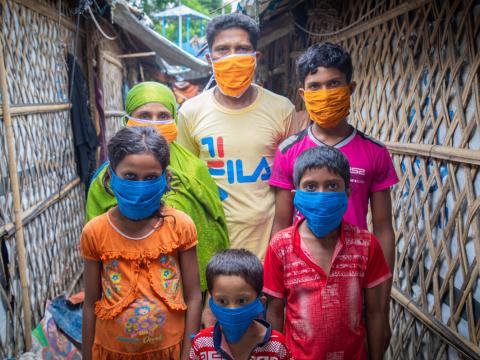 Rohingya Refugee Response COVID-19 Report, September 2020
Tuesday, October 6, 2020
On 30 January 2020, COVID-19 was declared a Public Health Emergency of International Concern on the recommendation of the WHO's Emergency Committee. By 11 March 2020, WHO declared the virus a pandemic—the first coronavirus to be declared as such. Bangladesh recorded its first COVID-19 cases in early March 2020, and since then cases have continued to increase exponentially.
At the time of reporting, 317,528 positive cases, 211,016 recoveries and 4,351 deaths had been reported. Currently, more than 860,000 Rohingya reside in the world's largest, most densely populated refugee camp in Cox's Bazar, Bangladesh. With a population density of 40,000 people/square kilometre, the risk of COVID-19 infection is high. The risk of morbidity and mortality is compounded by a nexus of factors, including local transmission (within Bangladesh), limited health infrastructure, poor health-seeking behaviours, shared sanitary facilities and general unhygienic living conditions.
In February 2020, data was collected from 407 listening groups conducted by different agencies. Among them, only 1.2 percent of the groups mentioned coronavirus. The lack of awareness is amplified by the telecommunications blackout imposed across the camps in September 2019. In early April, the first cases of COVID-19 were reported in the host community, followed by the first case in the camp on 14 May 2020. As of 5 September, 4,056 cases were confirmed in the host community (65 deaths) and 130 cases (6 deaths) in the camps.
In order to mitigate the effects of the pandemic in Cox's Bazar district among both the Bangladeshi and Rohingya communities, World Vision developed and implemented a COVID-19 response plan as part of the organisation's global COVID-19 Emergency Response (COVER). The programme's strategic objectives aimed to: 1.Scale up preventative measures to limit the spread of the disease. 2.Strengthen health systems and workers. 3.Support for children impacted by COVID-19 through education, child protection, food security and livelihoods. 4.Collaborate and advocate to ensure the world's response prioritises and protects vulnerable children.
World Vision works in 32 camps out 34 refugee camps, serving 498,906 people last year. In keeping with our regular grant-funded sectoral interventions in the camps and host community, the COVID-19 response focused on Protection (Child Protection, Gender-based Violence Prevention), Nutrition, WASH and Cash, Food Security and Livelihoods (CFSL).