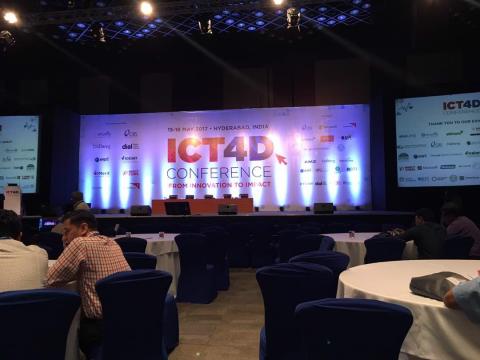 ICT4D Report: World Vision Rwanda a Pacesetter in Innovation
Thursday, June 1, 2017
World Vision Rwanda was well represented at the recently-concluded Information and Communications Technology for Development (ICT4D) Conference, which took place from 15-18 May in Hyderabad, India. World Vision joined hundreds of organizations at this international conference with a vision to empower the most vulnerable households and frontline community workers/volunteers through use of common, shared, multi-functional, and collaboratively designed ICT4D solutions to deliver community-based interventions. There to represent World Vision Rwanda were National Director George Gitau, ICT Manager Keith Bunyenyezi, and Resilience and Learning Technical Programme Manager Emmanuel Niyongira.
While special focus was placed on measures to ensure better data protection for major international aid organizations like World Vision, in collaboration with major tech companies amid global crises like the WannaCry ransomware attack, the ICT4D Conference was an excellent platform for different innovators around the world to share more on what their different organisations have been able to do and are currently doing in the field of ICT to bring development to their different communities around the world. World Vision Rwanda's 'e-Hinga', a dynamic web and mobile-based application intended to help local farmers and extension agents with information on crop and livestock production and management practices, stood out as one of the most innovative products for communities' development today.
World Vision Rwanda's 'e-Hinga' initiative was born under our Inzozi Nziza (Great Dream) Project after identifying a gap in agricultural extension services in Rwanda;  an effort aimed at modernizing access to information that would positively influence investment decisions for smallholder farmers and, in the long term, provide better livelihoods for them and their families. E-Hinga provides highly-synthesized information designed for easy access and adequate interaction by farmers and other users. Around 100 farmer promoters are now equipped with the E-Hinga app on their mobile devices; meaning that 100 villages with almost 20,000 farmers can currently access extension services under this initiative. Plans are in place to scale it up to other villages, with discussions currently ongoing with the Ministry of Agriculture and Animal Resources (MINAGRI) on the same.
Other initiatives that World Vision Rwanda has been part of concerned with the ICT4D agenda include the putting in place of different Community Knowledge Centres (CKCs) through ICT4D programs, in support of the Rwandan Government's initiative of transforming Rwanda into a knowledge-based economy as part of its Vision 2020. The CKCs are centres for innovation which have helped community members –especially farmers in very remote parts of the country– to access timely information on farming, crop pricing and the market situation in general. They have also helped teachers to prepare lessons, and connectivity has enabled students from various schools to carry out research. World Vision Rwanda has also worked with different partners to train the youth in ICT as part of its digital literacy campaigns.
In addition to the above, World Vision Rwanda has partnered with Microsoft on an initiative that's built to foster youth workforce development in the country, act as an employability and entrepreneurship forum, as well as support and enhance employability and entrepreneurship skills for young people. A platform called the Tambuka YouthSpark Portal was developed to create an opportunity for all young people to learn computing – a foundational subject that includes both ICT and computer science, and teaches students about the world around them; empowering them to become well-informed citizens and imaginative creators in our complex and ever-changing global society.
Through YouthSpark, World Vision and partner organisations are especially interested in supporting projects that will help young people from all backgrounds gain access to computer science education, helping them learn foundational ideas and develop computational thinking skills that will be critical for their future - regardless of what careers they pursue - helping them be better-skilled and prepared to obtain jobs, start their own for profit or non-profit ventures, or carry on well with their education or training. Of particular interest is ensuring that young people from underserved communities –especially girls, young women, and racial and ethnic minorities– have equal access to computer science education.
On the global front, World Vision International has been recognized as a one of the world leaders in technology for its innovative use of technology, degree of business impact, and value achieved. The organisation picked up the first place award in the category of IT Excellence in Security at this year's InformationWeek IT Excellence Awards. World Vision continues to be at the very top in finding innovative solutions to some of the biggest problems facing future generations, and Rwandan youth can certainly feel positive about the future thanks to the kind of initiatives set up in different parts of the country by World Vision's Rwanda Programme.