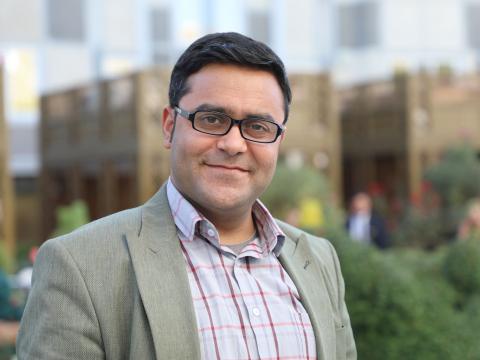 From a beneficiary to a staff member
Thursday, May 27, 2021
"I admire the way World Vision has changed my life. I was raised from a marginalized community and continued my journey beyond the cultural box," says Zakria Fazel, 31, who works as one of the education project managers with World Vision Afghanistan in Badghis. 
After he lost his father at the age of four, Zakria experienced a challenging time in his childhood. "My father was the only breadwinner. After he passed away, we joined my uncle's family."
Limited access to education and a lack of family support were common occurrences in his life, which resulted in attending school at later age.
"I was 12 when I registered myself to school," he says.
"I remember the time when I was in primary school. I was not able to purchase a notebook, pen, school bag and other required items. When I asked my uncle to buy me these stationeries, he argued that if he prepares the food to feed us, that is enough," Zakria says. 
World Vision reached out to Zakria and supported him by providing school stationery and food packages from to 2003 to 2011. "World Vision staff came to our school with a stationary truck. They provided us with notebooks, pens, pencils, a sharpener and some other items. They supported us during my schooling until grade 12."
Because of World Vision, Zakria had the school supplies he needed. "I did not buy a single notebook from the market," he says. "During my primary school, they provided cooking oil, lentils, rice, cake and some other foodstuffs for thousands of school students, I was one of those beneficiaries. I once sold my lentils and rice in the market to buy a school [uniform] for myself. The foodstuffs encouraged my uncle to send me to school without any absentees."
Zakria believes the organisation played a vital role in the success of his life. "Not only me, but there were also thousands of vulnerable children who did not have any supporters and lived in poverty. I think without those supports and coordination, I would not be the person I am today. There was a high possibility, at that time, [for me] to leave the school and start working as a child," he says. 
With a Master's Degree in Strategy and Diplomacy from the National University of Malaysia, he is now happily continuing his humanitarian support to his people.
"As a humanitarian aid worker who came from such a background, I am very well aware of the importance of aid and support of World Vision and other NGOs on the ground," he says. "When I visit our Accelerated Learning Centre in the field and witness the gradual improvement of boys and girls who were out of school before, I feel proud of the work we are doing in education and other sectors."
Seeing children who remind him of himself spurs him on.
Maybe this is one of the main reasons that I continue my working with World Vision for vulnerable children and communities. World Vision is the place that I achieve my dreams and goals. I hope for more resources to be able to support all vulnerable communities. Our efforts help children to not be left behind.