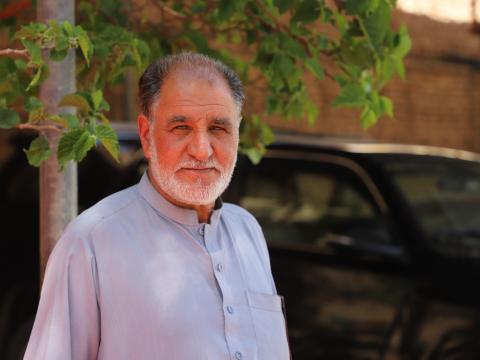 My Journey with World Vision - Meet Ghulam Rabbani Sharifi
Thursday, May 27, 2021
Ghulam Rabbani Sharifi, 52-years-old, works as Head of Drivers with World Vision Afghanistan. His commitment to humanitarian aid has a long history of around two decades. He has joint World Vision back in 2002. Rabbani owes his daily happiness to the satisfaction of his colleagues, and he is proud of himself to be able to serve the people in the communities hoping for a prosperous future of Afghanistan.
Rabbani started his journey with World Vision as a driver for the first five years, "As part of my day to day assignment, I have been actively involved in providing reliable and safe transportation to the field staff to hardest reach areas and remote districts of Herat, Ghor & Badghis provinces," he says. His job is very rewarding as it directly contributes to day to day project implementation and getting resources and assistance to those in need of support.
He became a humanitarian aid worker with an inspiration "my interest in alleviating the suffering from my fellow citizens has allowed me to look for opportunities in the humanitarian organisation to realize my dreams," says Rabbani.
For Rabbani security and safety of drivers when travelling to insecure districts is the hardest part of his job, "I should be available over the weekend to ensure there are no disruptions in the planned visits to the field," he says.
He is very thankful to be able to work with World Vision for long years.
As a father of seven children, I find peace and comfort when I see our work leads to a life-changing experience for other parents who are desperate and struggle to find sustenance for their children. Despite challenging environment for our operations, my work pays off when I see hope in the eyes of vulnerable communities, particularly children that we serve.