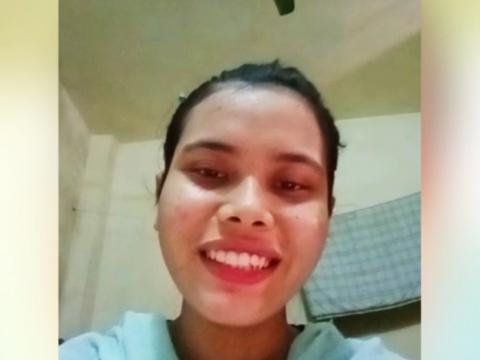 Lamia, 16, shares how children are fighting COVID-19 in Bangladesh
Thursday, November 12, 2020
By Lamia, 16 years old from Dhaka, Bangladesh. She is Executive Member of Mirpur Child Forum.
Between April and August, 2020, World Vision spoke to 763 children and young people in six regions across the globe to see how COVID-19 was affecting them. Lamia, 16, was one of those children, and these were her thoughts:
First of all I would like to share that, due to the COVID-19 lockdown, schools, colleges - everything is closed. Education is hampered.
Children can't go to school and that's their education is buried.
Our Government has started online-based education. But, in some poorer families children don't have the ability or they don't have a mobile phone or internet connection. There are also some families who have a phone and internet connection, but they are not taking it seriously.
After that there is another problem which I think is the biggest problem for youth and children. Due to the lockdown we stay at home all the day. We do some studying, some housework. And after that we start browsing. We spend almost half of the day browsing the internet. Is this the good option? No.
If there were no lockdown, we would have gone to school, continued our studies - led a normal life. But now, due to the lockdown, we spend time browsing the internet, so youth and children are facing different cyber risks.
A girl from next door was spending half the day online at the beginning of lockdown. She met a boy online and that boy tried to meet her in person several times. Youth and children are spending most of their time in online platforms and [many are] meeting some bad people. The internet can have both good and bad sides, but usually we pick the bad one.
Due to the lockdown, everyone has to spend all day at home.
Everything has a good side and a bad side - we are all safe and staying with our family. But, due to the lockdown restrictions we can't go out.
Everything is closed due to lockdown, so lots of families have no income. Some families can't manage even two meals a day.
I can give you an example. There is a big slum in our neighbourhood in Mirpur. Maybe two or three days ago I heard news that, one of the men there lost his job. Right now, they have no income due to lockdown. There was no way for him to manage two meals a day for his family. His daughter came to him and asked him for something and he vented all his anger on her. He beat his daughter a lot. When I got to know the matter, me, my mom and an aunt went to this house and talked to him. Then he realized his mistake and said, sorry. And he said that he will not do that again.
Children are experiencing more violence during lockdown.
Due to the lockdown, most girls are staying at home. Boys are sometimes allowed outside, but the girls generally do the house chores. If they can't meet family expectations, sometimes they are even beaten. In this lockdown situation, everyone is in tension.
Another thing is child marriage. One month ago, my uncle tried to force my cousin to get married. When I heard, I talked with my father and managed to get him to discuss it with my uncle. After that, my uncle changed his decision. But, he wanted to arrange his daughter's marriage! I managed to stop it, but there are a lot of families who can't.
Children and young people can contribute to our world.
And we all know that, the immunity system of children and youth are stronger than the old people. So we have an extra advantage in the COVID-19 situation.
We can share information among and create awareness among our neighbors, our family, friends and friend's family. We can share information about this harmful disease - we can make posters, we can share this info in online platforms. Every day we can share a post, may be more than one. In Ghashful Shishu Forum, one of my colleagues is making videos to share awareness message online.
My child forum group Shopno Chaya Shishu Forum has taken the initiative to collect 100 to 150 taka ($1.18-1.75 USD) from each member based on their ability, and support the COVID-19 affected families in our nearby slum. We don't get money from our parents, so we had to consider the ability of our members.
If you help someone, you will get return in future. I know you can't afford on your own, but if you work in a group with your family and friends you can ensure a family gets a meal every day. Because everyone is facing challenges feeding their families.
No one asks children for their opinion during a disaster. No one thinks of what we might be concerned about.
I would request our honorable Prime Minister to do more to stop violence against children, as a lot of children are facing it by their family members and neighbor during COVID-19 lockdown. There are a lot of enthusiastic children in our country. If the Government listens to our voice and NGOs and our families support us, that will inspire us and raise our confidence. If children are included with the government initiative, it can bring a better outcome.
(For the full report, please visit wvi.org/act-now)