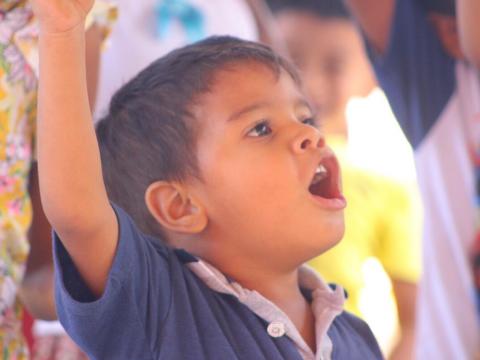 Children and adolescents speak up through Colombia's SDG UN report
Tuesday, July 13, 2021
Sara Lara celebrates that the views of children and youth were included in Colombia's Voluntary National Report to the UN.
2020 brought with it great challenges for the world. COVID-19 loomed large, but as we moved through 2021 it became clear that the pandemic's secondary impacts were just as bad—especially for children. Before coronavirus made its way around the globe, the world was making steady progress towards the Sustainable Development Goals (SDGs), towards overcoming multidimensional poverty, reducing inequalities and achieving peace.
Countries everywhere were, however, severely traumatised by the collective confinement and economic crisis caused by coronavirus. As a result, nations' hard work and investment in fulfilling the SDG commitments may yet be lost. This is especially worrisome for countries like Colombia, which was already facing enormous challenges in meeting the goals even before the health crisis.
Every few years, governments make a report on how their country is progressing towards achieving the Sustainable Development Goals (SDGs). These Voluntary National Reports or VNRs are delivered during the UN's High Level Political Forum (HLPF) in July. This year, Colombia is joining other countries to present its progress on the SDGs at the HLPF. It did this in 2016 and in 2018 but, in both those reports, information on children was limited and insufficient.
For this reason, NiñezYA, a coalition comprising World Vision and 100 other organisations working on behalf of Colombian children, prepared a report La pandemia tiene en crisis los derechos de la niñez (The pandemic caused a crisis in child rights) that included data from interviews with children and youth about issues of poverty and COVID-19. We were thrilled when content from this report was included in the government's VNR.
This approach is unusual for VNRs and meant that when the Colombia report was delivered it reflected the young voices of those most at risk from their country failing to achieve Agenda 2030.
The NiñezYA report spotlighted five of eight areas we know the Colombian government presented on:
Child welfare provided by the family is at risk (related to SDG1 End Poverty). In 2020 3.6 million people in Colombia slipped into financial poverty and 2.8 million into extreme financial poverty. This is expected to rise in 2021. Economic poverty drives up child labour and early marriage and makes it difficult for families to access health care, education, housing and other basic needs.
Food scarcity is rising (SDG2 Zero Hunger). Food security is deepening in Colombia with quarantine having caused a drop in families who eat three meals a day from 89.3% to 69.6%. This can cause chronic malnutrition—already a problem for 10.8% of children under 5 in the country. Before the pandemic, Fundación Éxito had projected that the eradication of malnutrition could occur in 2036, but with the setback in economic growth and the pandemic, it thinks it could now be delayed until 2040—10 years after the SDG deadline.
Deaths on the Rise (SDG3 Health and Well-Being). According to the National Institute of Health, maternal deaths went up possibly because hospitals were prioritising COVID-19 care. The attendance of children and  adolescents at clinics and hospitals also dropped, perhaps because of lack of access, fear of contagion and possibly a loss of trust in the health system. This is more serious for children with disabilities. Also, the mental health of children suffering anxiety and stress will remain poor for as long as the health system is focused on COVID-19 and help is not available.
Increasingly vulnerable children (SDG13: Climate action). Global warming is contributing to the prevalence and intensification of respiratory and diarrheal diseases that are concentrated in the 50% of the population suffering the worst poverty. Likewise, inequalities are deepening in areas affected by floods and droughts, as well as in areas where the general population lacks access to clean, safe drinking water and basic sanitation.
Elusive peace (SDG16 Peace, Justice and Strong Institutions). Although in 2016 the Colombian government signed a peace agreement with one of the country's longest-running guerrilla groups, the forced recruitment of children and adolescents increased during the pandemic.[1] Criminal gangs also continue to use under 18s to commit crimes such as theft or drug trafficking. Of great concern to NiñezYA is the increase in forced displacement, which has a greater impact on indigenous and Afro-descendant peoples, and also the blocking of supplies and basic services or violations against the right to life and integrity. These events also affect the more than 400,000 Venezuelan migrant children in Colombia.
Children are at risk, and as a result, so is achieving the SDGs.
NiñezYA is calling for those in power at all levels to act now to protect our children and young people by putting them at the heart of their programmes, plans and policies. We are calling for more investment and provision of health and nutrition; more play, more preschool, elementary and middle school education; and more opportunities for children to participate in discussions about their needs and futures. We are calling for families to be strengthened so child care is improved, and we urge everyone to do what they can to prevent violence against children and young people. Adolescent crime should be met with restorative and pedagogical justice, and we pray for a culture of peace, reconciliation and coexistence in our country.
Learn more about World Vision's work in Colombia by clicking here
Read the full report La pendemia tiene en crisis los derechos de la niñez (The pandemic caused a crisis in child rights) in Spanish here.
Read a summary document written by NiñezYA as a guide to accompany the Colombian VNR Los ODS estan en riesgo report here and the English version The SDGs Are At Risk  here
Sara Cristina Lara González is National Leader for Advocacy and Alliances for Children at World Vision Colombia.
 
1 According to figures from Coalico's Observatory on Children and Armed Conflict.