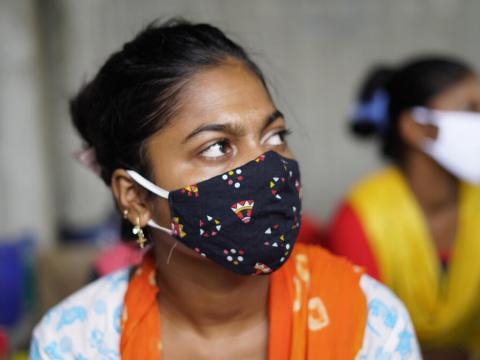 COVID-19 vaccine: First find out why they hesitate
Friday, September 17, 2021
Natalia and Dan say that finding out why people do or don't take vaccines is a crucial first step to achieving 70% vaccine coverage by 2022.
By Natalia Korobkova and Dan Irvine
 (On Monday 20 September World Vision is hosting a side event on the margins of the 76th UN General Assembly high-level week on this vaccine hesitancy . See below for details.)
We are the first to cheer on anyone calling for global action on global health. Sadly, we fear it will not be possible to meet global targets - such as the one being announced at Tuesday's COVID-19 summit - without closing the gaps in the demand side first.
Of course World Vision supports new financing to close critical gaps in the global COVID-19 response and the strengthening of global health infrastructure to prevent and combat future outbreaks. The truth is, though, that the world cannot possibly defeat this global pandemic without a global response that also takes into the consideration the reasons why people do not get vaccinated.  
The follow-through and adoption of any recommendation from a health-care provider is always a matter of personal choice, and routine non-compliance with standard health recommendations is predictable. 
While the health community makes recommendations based on positive, evidence-based interventions demonstrated to improve health, individual uptake is also influenced by both environment and belief systems that extend far beyond health literacy. Consider, for example, that, despite the fact that breastfeeding and quitting smoking are both strongly recommended by health professionals, only 38% of infants between 0 to 6 months are exclusively breastfed globally, and there are still more than 1 billion smokers in the world today.  
Historically, immunisations prove no exception to this rule and are considered one of the more 'controversial' interventions; leading the World Health Organization to prioritise vaccine hesitancy as a top 10 global threat to public health. World Vision and our partners understand this requirement based on decades of community-level interactions ranging from routine child immunisation uptake, to polio, Ebola, and now COVID-19 vaccination. 
It is formative research to identify local belief systems, barriers, and enablers related to vaccine introduction are a useful precursor to every immunisation campaign. In order to have a behaviour change strategy that effectively addresses COVID-19 vaccine uptake, plans must address the multiple beliefs and behavioural factors that pertain to the specific context and populations in order to reduce barriers and leverage enablers identified in vaccine hesitancy studies.  
 For example, in a World Vision peer-review study* conducted in an urban population in Dhaka, Bangladesh on the behaviours that indicate whether a person is likely to get a COVID-19 vaccine , we found that the strongest predictors of people's willingness to get vaccinated were based on social norms, in particular recommendations from health professionals. However, perceptions of vaccine safety, efficacy, and perceived risk, positive and negative consequences of vaccination, access, and divine will were also found to be strongly associated with uptake.
Some of the strongest statistically significant predictors of individuals' willingness to get a vaccine in the Dhaka population surveyed were around both beliefs about the disease itself, including one's risk of transmission and its severity, and the perceived safety of COVID-19 vaccines.  
 Sadly, a recent World Vision assessment of national vaccine deployment plans (NVDPs) of nine countries facing some of the highest risks from COVID-19 due to their fragile contexts and vulnerable populations (i.e. Ecuador, Colombia, Uganda, Syria, Jerusalem/West Bank/Gaza, Sierra Leone, Mauritania, Bangladesh, and Mali) showed a major hole in their plans around, and funding for addressing vaccine hesitancy.
Vaccine hesitancy research such as this can help provide governments and non-governmental organisations a better contextual understanding of local barriers and enablers of COVID-19 vaccines which is vital for effective development of behaviour change communications and strategies.
As governments and other stakeholders plan vaccine roll-outs, other responses from people planning to get vaccinated on what makes immunisation easier may also be helpful to ensure their programming helps to boost acceptance rates (for example, providing vaccination through government health facilities, schools, and kiosks, and having vaccinators maintain proper COVID-19 health and safety protocols). 
The reasons for vaccine acceptance/hesitancy vary so research needs to be done to find those factors most associated with vaccine acceptance (not just the most common reasons people list for vaccine hesitancy) and use them to boost COVID-19 vaccine acceptance through contextual messaging and activities.
In the absence of a single trusted source for vaccine information, multiple communication strategies are necessary – for example, training people who plan to get immunised to be local 'vaccine champions', amplifying personal testimonies of those who are vaccinated, and equipping faith leaders with factual messages grounded in the guiding principles from their religious texts and encouraging them to combat misinformation, rumours, and disinformation so individuals and families have accurate information to make decisions about COVID-19 vaccines.
While World Vision may not be a vaccine distributor or provider, we are experts on partnership and collaboration. We helped to ensure more than 130,000 people in four countries were vaccinated, using a two-dose regimen, against Ebola in the West Africa and Democratic Republic of Congo outbreaks. We also have extensive experience partnering with children, communities, and our network of hundreds of thousands of faith leaders, community health workers, and grassroots community leaders to implement vaccine solutions around the world and have been heavily involved in Polio eradication efforts for more than 20 years. We know that in order for the COVID-19 vaccines to be taken up effectively, engagement with these communities and local leaders is vital.    
World Vision's tools and approaches are also proven to lead to meaningful dialogue, combat misinformation, and address fears and concerns as we work to encourage vulnerable communities to get immunised once COVID-19 vaccines are available – specifically, our Channels of Hope model has been instrumental in keeping people healthy during the COVID-19 pandemic model by engaging and equipping faith partners with accurate information regarding COVID-19 and creating spaces for them to explore relevant ethical and theological issues and address deadly misconceptions about COVID-19 vaccines.
Our work to identify and address barriers to vaccine uptake has shown us it is vital for the success of any vaccine roll-out. Funding vaccine production and distribution can only do so much. World leaders need to do more than get needles to arms, they need properly fund and plan to get arms to needles.

Dan Irvine is Senior Director, Health & Nutrition, and Natalia Korobkova is COVID-19 Response Advocacy Director at World Vision.
*in collaboration with Bangladesh-based researcher Md. Abul Kalam and renowned vaccine researcher Heidi Larson
_______________________
World Vision is hosting a side event on this issue – COVID-19 Vaccination: The Demand Side – on the margins of the 76th UN General Assembly high-level week on Monday, 20 September 2021 10 – 11:30am EST. Programme participants include:  
Thabani Maphosa, Managing Director of Country Programmes, GAVI 

 
Tom Davis, Global Sector Lead, Health and Nutrition, 

WVI

 
Dr Scott C. Ratzan, Distinguished Lecturer, City University of New York's Graduate School of Public Health & Health Policy, co-lead of global CONVINCE (

COvid-19 New Vaccine INformation Communication and Engagement

) initiative, and Editor of the Journal of Health Communications 

Government representative (TBC)

 
Lisa Menning, Team Lead, World Health Organization (TBC)

 

Diana Summers, Communication for Development Senior Advisor, UNICEF

 

Dan Irvine, Senior Director, Health & Nutrition, World Vision International

Dr Sheetal Sharma, Senior Immunisation Advisor, CORE Group
 For more information about World Vision's demand-side vaccination event, visit: https://bit.ly/UNGA76covidvac.