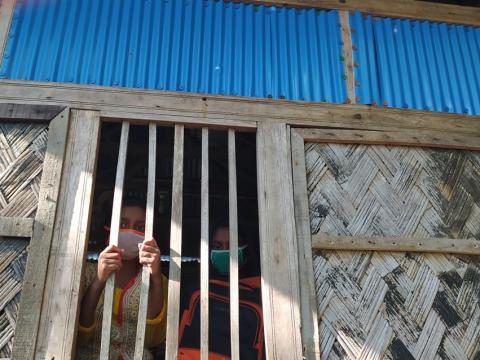 COVID-19: We must fight harder to end violence against children
Friday, May 15, 2020
Bill Forbes, Global Sector Lead - Child Protection & Participation
The headlines are terrible: more than 4.4m people infected with COVID-19 and 300,000 dead. But largely unreported is another terrifying statistic linked to the virus; one almost too big to comprehend.
Violence against 85 million more children in lockdown.
Today, international humanitarian agency World Vision warned that there is a hidden epidemic that is ramping up in homes and communities around the globe. Tens of millions more children facing emotional, physical and sexual violence in just the first three months of lockdown.
The aid agency's Aftershocks: Perfect Storm report also reveals that its staff are already seeing evidence of this and hearing about it from its community-based partners and volunteers, as well as from children themselves.
Hotline calls and domestic violence/child abuse arrests are on the rise in countries around the world, including Mongolia, Uganda and South Africa; as are reports from community-level child protection committees in many countries, such as the Philippines and Peru.
World Vision staff are doing what we can to mitigate this. In recent days they have worked with local partners to stop child marriages in India and to stop online sexual exploitation of children in the Philippines. But, we are just one organisation and it will take urgent action from everyone to stop this prediction from becoming a reality.  
COVID-19 amplifying risk to children
We have witnessed with diseases like Ebola how child protection systems that are often under-resourced and unable to respond to demand are further stretched, even completely interrupted, by the restrictions and challenges posed by disease outbreaks. And the COVID-19 pandemic is not like anything we have seen in recent history.
Remote access, isolation of children, and movement restrictions are huge challenges to preventing and responding to violence against children in an emergency like this one.  Typical spaces for reporting and referral including schools and peers are no longer accessible due to the pandemic.  The networks of child protection staff and even volunteers and community members are directly affected, struggling to care for their own families.  Existing government and donor funding for child protection is at risk of being reprogrammed in the fight against COVID-19. 
The most vulnerable children are made more vulnerable.  The vulnerability factors that expose children to an increased risk of violence are exacerbated by COVID-19.  Lockdowns, movement restrictions, shuttering of markets and livelihoods, mean that vulnerable children face even greater marginalisation, discrimination, rejection and violence.  These most affected children include children living in a home that was violent before the pandemic, or in contexts of conflict or fragility, as a refugee or a displaced person, in conflict with the law, from a discriminated minority group, with disabilities or living on the street.  Rising insecurity, poverty, manipulation of information, and a context of tension and fear, further prevent the necessary environment of inclusion and access to services for the most vulnerable.
Amplifying our efforts
As part of World Vision's biggest ever response – US $350m to reach 72m people over the next 18 months – we are scaling up preventative measures to limit the spread of the disease, strengthening health systems, and providing multi-sectoral support to affected children and their families, including child protection interventions to strengthen the protective environment.
Our programmatic efforts to end violence against children in the midst of COVID-19 are focused on strengthening child protections systems - building upon decades of experience working with child protection committees, local volunteers, faith leaders, local authorities, caregivers and children themselves. The trust, relationships and communication we already have with community members and partners – even in remote villages and urban slums – has been critical for us to be able to adapt to this disaster.
We are focused on key interventions in child protection programming: adapting reporting and referral mechanisms to the current challenges, ensuring standard procedures for alternative care for children who lose their parental care, and providing psychosocial support for parents, caregivers, children and adolescents. 
In just the past few weeks we have already reached nearly 15,000 frontline actors, including faith leaders, with child rights and child protection training; nearly 400,000 girls and boys were directly reached through child protection programming; nearly 700,000 people with psychosocial support to be able to manage stress without violence, and we have influenced nearly 50 policies and procedures beyond on our own operations to strengthen the child protection environment during COVID-19. 
Sharing what we've learned
We are learning while running, and the scope and scale of this pandemic requires flexibility, agility, humility and adaptation. Some of our initial lessons include:
The protection of children from violence must be a top priority in the response to COVID-19 across all contexts.  The child protection workforce must be classified as 'essential' and frontline workers equipped to carry out their functions; other front line workers such as health care staff must also be ready to intervene and respond especially where child protection systems and schools are not fully functioning. 
Investment in the child protection system must continue, even in the midst of a debilitating pandemic and economic fall-out.  It is critical we work with existing mechanisms, increasing their accessibility and functionality, rather than creating something new and temporary.  Reporting and referral mechanisms, psychosocial support, and alternative care must be strengthened and adapted to remote management and changing modalities.   
Everyone has a role to play in protecting children. No one type of actor is sufficient to protect children. In order to protect children from violence under such challenging conditions, different groups have differing critical contributions to this collective effort - including government, faith communities, media, civil society, and business.
Responses to child protection on the ground must be adaptive. Child protection assessments and ongoing monitoring of violence against children must be prioritised – all of us involved in this effort should be particularly vigilant for trends in child labour, child marriage, sexual exploitation, and the potential for an increase in vulnerable and orphaned children if and when caregivers are affected.  We are developing scenarios for how we can rapidly respond when we see spikes in these or other patterns of violence against children and encourage others to do the same.
Children's voices must be heard. We cannot assume or presume to know their lived experiences.  Only children can tell us what it is like to be a child under COVID-19. If we want to help children be safer, then we need to recognise their own contributions to protection and include them in our efforts. World Vision has structured listening processes to hear from children about the impact of COVID-19, the lockdowns, and the effectiveness of our programming.
There is so much we can do together to protect children from physical, sexual and emotional violence, especially during this devastating global pandemic. It is the reason we named our global campaign It Takes a World to End Violence against Children. Everyone must ensure that violence against children does not remain hidden in the shadows, but brought into the light; not allowed to continue unchecked, but brought to an end.
My hope and prayer is that this pandemic increases our resolve to keep children safe, to demonstrate their inherent value, and to help them have life in all its fullness even under such difficult conditions.
Pic: A girl in Bangladesh stays indoors in lockdown as part of the quarantine against COVID-19. Credit: Lipy Mary Rodrigues, World Vision.