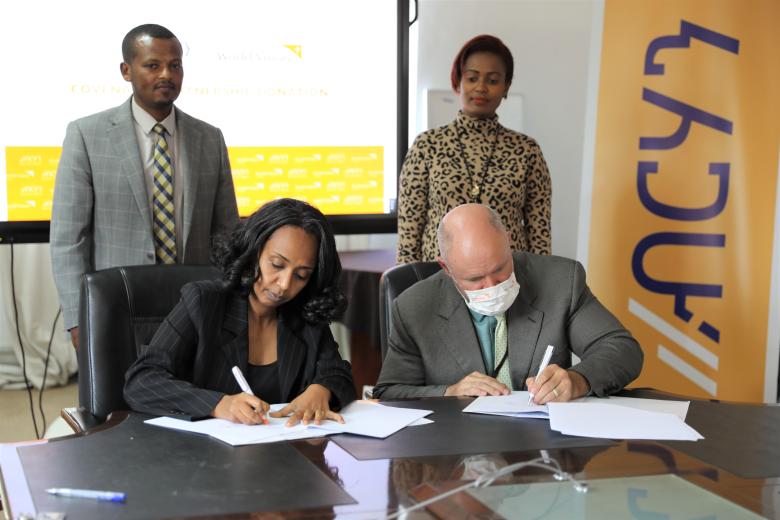 World Vision and Berhan Bank S.C. sign MoU for sustainable income-generating community service facilities
Tuesday, December 21, 2021
World Vision and Berhan Bank S.C. have signed a Memorandum of Understanding (MoU) that defines the current Covenant (Kalkidan) Partnership Project and future collaboration between the two organisations. 
The MoU was signed by Mr. Edward Brown, National Director for World Vision in Ethiopia, and Bethlehem  Getachew, Acting President of Berhan Bank S.C. on 20 December 2021 at World Vision's Ethiopia Headquarters in Addis Ababa.
Through the Covenant Partnership, Berhan Bank S.C. provides financial support in transforming World Vision's phased-out area programme offices into sustainable income-generating community service facilities. 
Accordingly, Berhan Bank donated 13.5 million Birr (approximately US$277,000), of which 11.5 million Birr (approximately US$236,000) will be dedicated to supporting World Vision's National Resource Development initiative aimed at building schools with additional G+1 classrooms as well as furnishing the schools with basic school materials and equipment in Fnote Selam and Enjibara towns in the Amhara region. 
 "We are delighted to be partners with World Vision on this project because it also aligns with our vision as a company.  I would like to thank World Vision for the dedication to the project and the cause", said Bethlehem Getachew.
During the signing ceremony, Mr. Edward Brown said, "Berhan Bank has always been not only a bank with great customer service but also a partner that supports World Vision's core value of being responsive during our emergency responses and multi-purpose cash transfers. Thank you for your generosity and for being the first corporate sponsor of our National Resource Development Initiatives, which will be invested for the next generation."