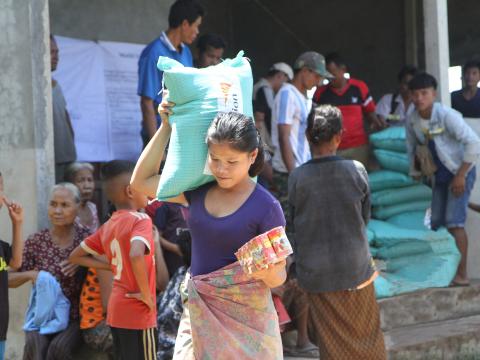 World Vision responds to Lao southern floods
Tuesday, October 1, 2019
As a consequence of the passage of Tropical Cyclone PODUL and Tropical Depression KAJIKI at the beginning of the month of September, over 660,000 people have been affected by flooding in Lao PDR. At least 18 are known to have died, more than 275,000 hectares of farmland have been damaged and 39,000 households displaced, with homes, schools, livelihoods and roads damaged or destroyed. 
World Vision is already on the ground, and in the worst affected districts, where we had ongoing programs, we are providing life-sustaining aid to thousands of children and their families across 5 districts: Soukhuma (Champasack Province), Saravan (Saravan Province), Thapangthong, Xonnabuly (Savannakhet Province) and Nhommalath (Khammuane Province).
Our relief response target an initial of 5,079 households (29,038 people), and include:
Distributing drinking water

Providing ready to eat food items and rice

Supporting operation for boat rescues
We are focusing on the most vulnerable families and children, who are still evacuated while the water is receding, and until their houses are accessible and safe again. 
World Vision has started its relief distribution on the 8th of September. We are working in coordination with the local and provincial authorities for the response, and we partnered with the district government authorities for the distribution, using heavy trucks and then boats to transport the relief items to the most remote villages. For our operation in Salavan, we have also partnered with ANZ bank. 
Our staff are continuing to assess affected areas to help children and their families, and we are coordinating our operation with other NGOs, development partners and government authorities. We are also planning long-term support with livelihood assistance and recovery for damaged schools.