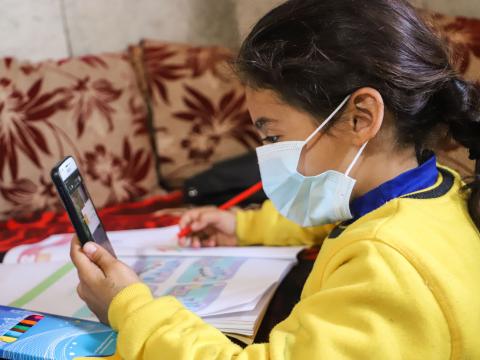 In Lebanon, a cell phone tethers Souad to her dreams
Tuesday, January 19, 2021
There is only one thing connecting 6-year-old Souad to her dream of becoming a doctor: her mother's old phone.
For children like Souad in Lebanon, 2020 was an unthinkable year, especially in terms of education. COVID-19 required schools to switch to remote learning in order to keep children, parents, and teachers safe. The virus changed the lives of millions in a matter of months and forced us to find new ways to communicate. Technology played a crucial role in mitigating the catastrophic effects of lockdowns and social distancing.
The situation has been even harder on refugee children living in the informal settlements in Lebanon. School used to be a haven for these children. It was an escape to a different and more colourful world, where dreams of a better life were possible, where every day they could learn something new and exciting, and where they met and played with friends in a safe and clean environment. Other than the privation they are facing in their daily lives, now they must to remain at their small and crowded tents trying to learn on their parents' old, slow phones.
Six-year-old Souad is one of these children. She is now trying to learn remotely using her mother's phone in an informal settlement in Akkar, north of Lebanon. However, unlike other children, Souad already had difficulties in learning. She always needed additional support during her education. "Souad was not able to speak before she was four years old, she faced a lot of difficulties when she started going to school," says Souad's mother, Samira.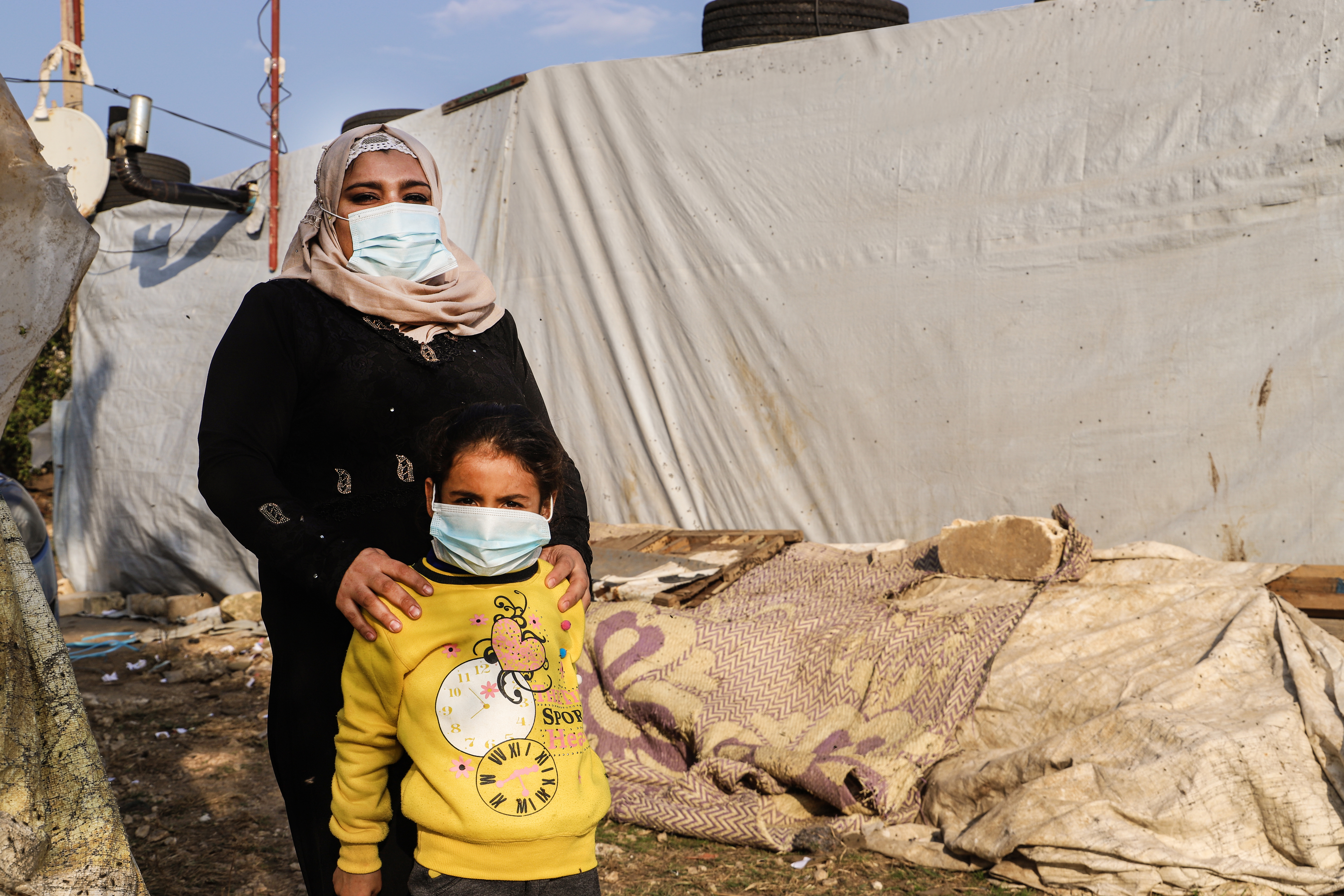 Samira, a mother of three, escaped the war in Syria five years ago and settled in Lebanon after losing their home that was completely destroyed.  "I came here looking for safety for my family. But the last year here was really difficult due to the economic situation and Coronavirus," she says. "We were, and still are very scared of the virus. I get worried whenever one of my children gets sick or starts coughing. Now, we are stuck together in our small tent because my children can't go and learn from school due to the pandemic."
Making sure her children are well educated is very important for Samira. "I want my children to keep going to school and learning, I want a better future and a better life for them," she says. "But now the situation is hard especially for us refugees, we already had a lot of problems and now our children have to stay and study at home." 
She feels especially concerned for Souad. "Souad always had difficulties learning at school," she says, "but ever since she enrolled with World Vision, I started noticing big changes in her learning abilities in the past few days."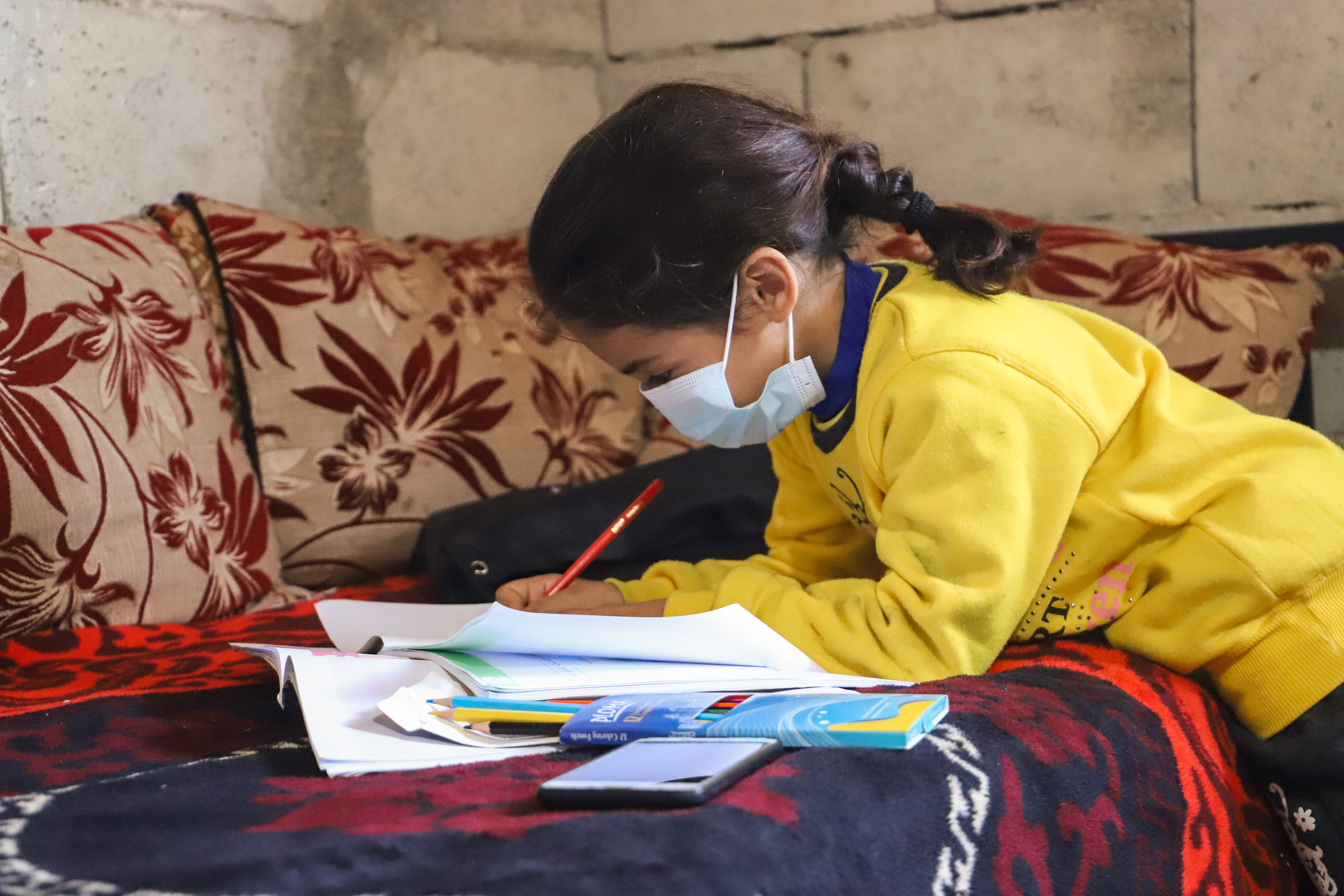 In partnership with UNICEF and funding from the Foreign, Commonwealth & Development Office (FCDO), France and Canada, World Vision is providing remote learning under "Community Based - Early Childhood Education" project in Akkar to Souad and other Syrian refugee children so they can keep learning during this pandemic.
"I started teaching Souad around two months ago," says her teacher, Malak el Riz. "At first, she was very shy and did not talk too much. She had pronunciation difficulties and was scared to say something wrong."
Malak took the little girl under her wing. "That's why I need to find more efficient solutions to help her advance, for that reason I started teaching her individually every day and not only on the group chat," she says. "Rapidly Souad started progressing. Her pronunciation is better than before. She is becoming courageous in talking and studying. Overall I feel she is becoming better and she loves to get in touch and learn with me," she says. "I also try to diversify her activities in order to encourage her to study more, and so she falls in love with reading and writing. I always send her videos and voices so she can listen to numbers, letters and learn to colour as well."
Souad now can easily count to 10 and knows the letters of the alphabet. She dreams of becoming a doctor one day. But she misses going to school and seeing her friends.
"Thank God Souad is progressing with her teacher and I really hope and pray that she will have a bright future ahead of her," says Samira.  And for now, that future is tethered by her mother's old phone.